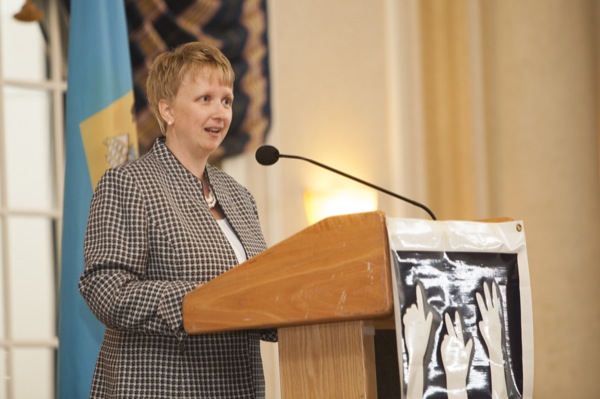 For the Record, Aug. 9, 2013
University community reports recent announcements, presentations
10:45 a.m., Aug. 9, 2013--For the Record provides information about recent professional activities of University of Delaware faculty, staff, students and alumni.
Recent announcements, media and presentations include the following:
From graduates, faculty
As it neared time for the processional to open the University of Delaware Commencement ceremonies, graduating students and faculty members shared their feelings about what the event means to them.
Doctoral hooding
It was a day of triumph, cheers and collective relief as more than 160 students from 21 nations participated in the University of Delaware's Doctoral Hooding Convocation held Friday morning on The Green.
Announcements
Janice Barlow, assistant policy scientist in the School of Public Policy and Administration and director of Kids Count in Delaware, has been asked to serve on the organization's national steering committee. Her three-year term is effective July 2013. The steering committee acts as an advisory and coordination group for both the national and state efforts of Kids Count. The 10-person committee is primarily tasked with identifying common policy and technical assistance issues for Kids Count grantees, and for advising staff on potential connections between foundation work and grantee efforts. As director of Kids Count in Delaware, Barlow oversees all aspects of its mission to provide high-quality data about the well being of children, youth and families, and advocacy for positive changes in policies, priorities and programs. This includes research and analysis, data product creation, data dissemination, strategic communications, fundraising, grants management and administration and program staff supervision.
UDress magazine, a student-run fashion magazine at UD, has announced editors, directors and officers for the 2013-14 academic year. Maggie Moore will serve as editor-in-chief and Liz Penczak will serve as executive editor. Other editors are: Veronica Szafranski, associate editor; Olivia Fierro, creative director; Lauren Hall, "whatdelawears" editor; Laura Bilash, "men's room" editor; Carli Halper, "fashion fresh" editor; Lexis Kambour, "lowdown on your upkeep" editor; Sarah Coonin, "real wide world" editor; Lauren Mancini, "life and love" editor; Meredith Castellini, online editor; Maddy LaRosa, art director; Alex Davey, style editor; Emily Kazmac, photography director; and Justin Frense, web designer. On the publishing side, Kara Fobian will serve as president and Katie Fanale as publisher. Also, Jennifer Zacher will be the advertising director; Randi Polizzotto, public relations director; Sonny Rothstadt and Bria Schirripa, fashion event co-directors; Kate Flewelling, treasurer; Danielle Andrade, philanthropy director; Henley Cook, director of social media; Milena Ho and Rachel Gordon, social co-chairs; and Erica Firestone, model coordinator. 
Media
Susan Strasser, Richards Professor of American History, and Adam Rome, associate professor of history and English, were both quoted in an article by Jennifer Kalish, "Early Recycling Focused on Necessity," in the Aug. 6 Waste and Recycling News. 
Presentations
Bruce Weber, dean of the Alfred Lerner College of Business and Economics, has been invited to participate in the Americas Conference on Information Systems (AMCIS) 2013 Chicago special session, "Meet with Deans with IS Backgrounds," on Aug. 17. The session is aimed at enabling AMCIS participants to see through the eyes of deans with regard to enrollment, placement and outreach issues; the discipline as compared to other disciplines; and how deans might function differently as a result of their IS backgrounds. Weber will present along with Michael Ginzberg, former Lerner College dean and current dean of the Kogod School of Business at American University; Peter Todd, dean of the Desautels Faculty of Management at McGill University; Bill Hardgrave, dean at Auburn University's College of Business; and Len Jessup, dean of Eller College of Management at University of Arizona. The panel will be moderated by J.P. Shim, visiting clinical professor of computer information systems at the J. Mack Robinson College of Business at Georgia State University.
Peter Atwater, instructor of business administration, spoke Aug. 8 at TEDx Wilmington on confidence-driven decision making, the topic of his freshman honors colloquium. Using examples from his class, Atwater showed how changes in confidence directly impact preferences and actions.
Suzanne L. Burton, professor of music education, gave two clinics for the New Jersey Music Educators Association Summer Workshop on Aug. 6. The first, targeted at early childhood music educators was titled, "A Playful Approach to Tonal and Rhythmic Improvisation (Leading to Music Literacy)" and the second presentation was "Making Music Mine! Using Centers for Middle School General Music."
Charles E. Robinson, professor of English, delivered a plenary lecture on "Byron and Hazlitt: A New Look at The Liberal" during the 39th International Byron Conference at King's College London, July 1-6. The conference was on "Byron: The Poetry of Politics and the Politics of Poetry."
To submit information to be included in For the Record, write to ud-ocm@udel.edu.