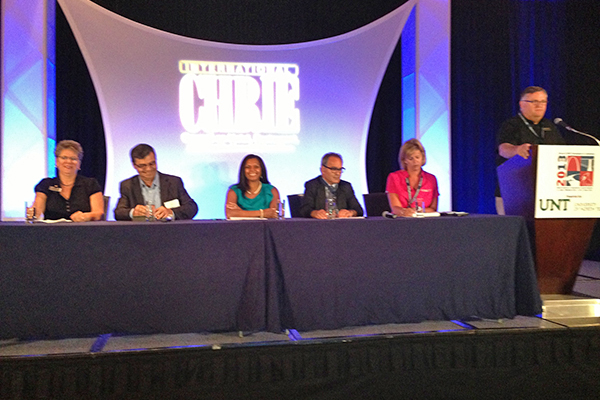 For the Record, Aug. 2, 2013
University community reports recent awards, presentations, publications
9:40 a.m., Aug. 2, 2013--For the Record provides information about recent professional activities of University of Delaware faculty, staff, students and alumni.
Recent awards, presentations and publications include the following:
From graduates, faculty
As it neared time for the processional to open the University of Delaware Commencement ceremonies, graduating students and faculty members shared their feelings about what the event means to them.
Doctoral hooding
It was a day of triumph, cheers and collective relief as more than 160 students from 21 nations participated in the University of Delaware's Doctoral Hooding Convocation held Friday morning on The Green.
Awards
Hank Ashbaugh, a UD alumnus and associate professor of chemical and biomolecular engineering at Tulane University, has received the Helmholtz Award from the International Association for the Properties of Water and Steam. Ashbaugh was given the award for his research "on the effect of water's aversion to oil and the resulting insolubility of oil in water." Ashbaugh completed his doctorate in chemical engineering at UD in 1998.
Presentations
Susan Strasser, Richards Professor of American History, presented a research talk, "God's Entrepreneurs: The Shaker Herbal Medicine Businesses," to the annual Shaker Seminar, held at the Shaker Museum and Library, New Lebanon, N.Y., on July 23-28.
Ali Poorani, associate professor of hotel, restaurant and institutional management, presented on the topic "Where are the Jobs?" with industry leaders at the International Council on Hotel, Restaurant and Institutional Education (ICHRIE) conference in St Louis last week. ICHRIE is the leading association for hospitality and tourism educators in the world. More than 400 deans, chairs, and faculty participated in the conference. Poorani addressed how UD's HRIM department and other hospitality schools must remain innovative when marketing their programs to students, parents and the community. By dividing marketing activities based on three stages of the student experience -- pre-arrival, or prior to college entry; encounter, or during university studies; and metamorphosis, or post-graduation -- Poorani highlighted tools and programs aimed at educating audiences about the industry, providing students with discovery learning experiences during college, and setting realistic expectations about employment opportunities after graduation.
Publications
James M. Brophy, Francis H. Squire Professor of History, published "Dimensions transnationales de la culture politique rhénane, 1815-1848," Revue d'histoire du XIXe siècle, 46/1 (2013): 73-93.
Richard Wool, professor of chemical and biomolecular engineering, published an article titled "Use of Renewable Feedstocks" on the American Chemistry Society website. The article is one installment of the 12-part series "12 Principles of Green Chemistry." Wool's contribution outlines the very bright future for America's economically viable bioenergy and bio-based energy independence. Wool cites the advancements in biodiesel, bioethanol and electronic materials made from chicken feathers as examples of the rapid advancement of biobased materials in the United States.
To submit information to be included in For the Record, write to ud-ocm@udel.edu.