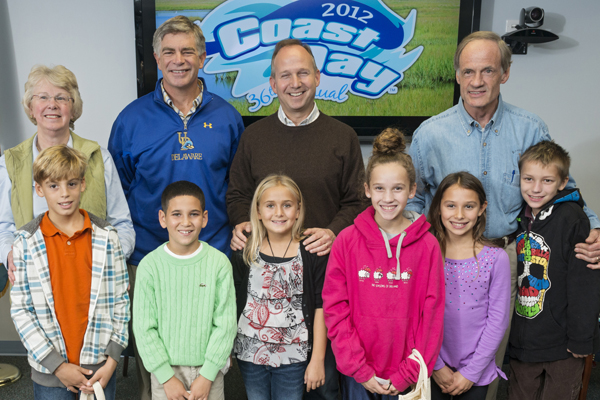 Coast Day essay contest
Delaware fifth-graders encouraged to explore theme of hurricane preparedness
9:21 a.m., Aug. 29, 2013--Fifth-grade Delaware students can enter the University of Delaware's Coast Day essay contest with compositions that relate to this year's theme, "Building Resilient Coastal Communities."
Entrants are asked to describe what they have learned in the months since Hurricane Sandy and how they can best prepare for future coastal hazards such as hurricanes, flooding and sea level rise.
From graduates, faculty
As it neared time for the processional to open the University of Delaware Commencement ceremonies, graduating students and faculty members shared their feelings about what the event means to them.
Doctoral hooding
It was a day of triumph, cheers and collective relief as more than 160 students from 21 nations participated in the University of Delaware's Doctoral Hooding Convocation held Friday morning on The Green.
The contest encourages students to improve their writing and research skills while learning about important environmental and coastal issues.
Finalists will be recognized at Coast Day, to be held on Sunday, Oct. 6, from 11 a.m. to 5 p.m. at UD's Hugh R. Sharp Campus in Lewes, Del. The top three winning essayists will receive bookstore gift cards valued at $100 for first place, $75 for second and $50 for third. 
"The essay contest not only creates a friendly competition for students, but it also engages them to learn more about the coastal issues," said Chris Petrone, marine education specialist with Delaware Sea Grant. "The contest enhances students' knowledge and writing skills in a fun and different way than what they might be used to."
Essay contest entries, which will be considered only if they are postmarked by Sept. 20, conform to contest rules, and are under 400 words in length, should be sent to:
Coast Day Essay Contest
Chris Petrone
Delaware Sea Grant – Marine Advisory Service
700 Pilottown Road
Lewes, DE 19958
Coast Day, an annual educational festival about Delaware's rich marine resources, is held on the first Sunday in October. Sponsored by UD's College of Earth, Ocean, and Environment (CEOE) and Delaware Sea Grant, Coast Day attracts thousands of visitors and has won state and national awards for promoting environmental education and stewardship.
New this year, families can view ships built out of Lego blocks from the world's largest collection, made by the TEACH FLEET Community Lightship Initiative. Ships in the collection are up to 6 feet long and represent seafaring vessels from tugboats to aircraft carriers. Other kid-friendly favorites at Coast Day will include a chemical magic show, treasure hunt, critter touch tanks and tours of UD's research ships.
Coast Day is supported by DuPont – Clear into the Future, WMDT-CW-3, DNREC, NOAA, Dover Rent-All Tents and Events, Gamesa, OSG, Port of Wilmington, UTEC, Weston Solutions Inc., Center for the Inland Bays, Environmental Resources Management (ERM), Partnership for the Delaware Estuary, Statoil Marketing and Trading, Survice Engineering, WDDE 91.1 FM, Brownfield Science and Technology, Envirotech Environmental Consulting and Water Resources Agency.
For a complete list of contest rules and to learn more about Coast Day, visit the event website.
For more information about the contest, contact Chris Petrone at 302-645-4308 or petrone@udel.edu.
Article by Annie Birney
Photo by Evan Krape