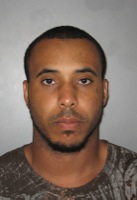 Robbery arrest
Newark Police arrest Maryland man in robbery of two UD students
1:33 p.m., Aug. 20, 2013--Newark Police have arrested Robert L. Adger, 29, of Warwick, Md., for the robbery of two University of Delaware students that occurred around 2:52 a.m., Monday, Aug. 19, in the 600 block of Lehigh Road in Newark. 
During the incident, a male victim was seated on a bench in front of his apartment building when he was approached by two men, one of whom displayed what was believed to be a handgun and demanded that the victim turn over his property. When the victim said he had no valuables in his possession, the suspects ordered him into his apartment, where they stole his cell phone and a purse belonging to a woman in the apartment. Neither victim was injured, and the suspects fled in a dark-colored SUV.
Subsequent investigation led investigators to the area of Pleasant Valley Road. At approximately 4 a.m., officers observed a vehicle matching the description of the suspect vehicle travelling on Pleasant Valley Road. 
Officers initiated a traffic stop and detained its three occupants. Stolen property, including the victim's cell phone, was located in the vehicle. Additional property that had been discarded by the suspects was located by a good samaritan on Appleton Road at Route 213.
During their subsequent investigation, detectives positively linked the driver of the vehicle, Adger, to the robbery. Although not involved in the robbery, two additional occupants of the vehicle, Alex Mouton, 30, and William Seward, 25, both of Newark, were charged with receiving stolen property. Detectives are working to identify the second suspect responsible for the committing the robbery with Adger.
Adger was charged with one count of first degree robbery, one count of possession of a firearm during commission of a felony, one count of home invasion, one count of first degree burglary, one count of first degree unlawful imprisonment, one count of second degree conspiracy and one count of theft under $1,500. He was arraigned through JP Court 2 and committed to Howard R. Young Correctional Institution in lieu of $76,218 cash bail. 
Mouton and Seward were each charged with one count of receiving stolen property under $1,500 and were arraigned through JP Court 2. Mouton was released on $1,000 unsecured bail, and Seward was released on $2,000 unsecured bail. 
Anyone with additional information on this incident should contact Detective Mike Watson at 302-366-7110, ext. 133, or michael.watson@cj.state.de.us. Anonymous tips can be texted to 302NPD with the message to TIP411. Information can also be provided anonymously to Crime Stoppers at 1-800-TIP-3333 or www.tipsubmit.com, where a reward may be available.
Visit this website to receive a UD Crime Alert email whenever an article about a police investigation is posted on UDaily.