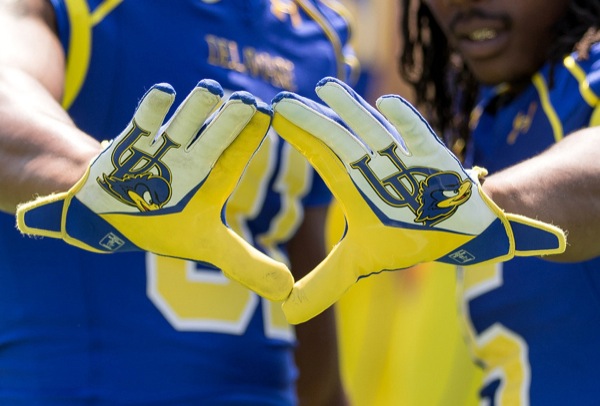 Alumni activities
University Alumni invited to tailgate event at UD-Navy game
10:29 a.m., Aug. 23, 2013--Blue Hen football is a rite of fall and University of Delaware alumni are invited to register now for a tailgate event to be held prior to the Navy game on Saturday, Sept. 14, in Annapolis, Md.
The event will begin at 12:30 p.m. with game time at 3:30 at Navy-Marine Corps Memorial Stadium.
'Resilience Engineering'
The University of Delaware's Nii Attoh-Okine recently published a new book with Cambridge University Press, "Resilience Engineering: Models and Analysis."
Reviresco June run
UD ROTC cadets will run from New York City to Miami this month to raise awareness about veterans' affairs.
Cost is $30 for tailgate only; the fee does not include game tickets.
There will be a buffet featuring hamburgers, hot dogs, chicken, salads and dessert.
For details or to register, click here.
The Hens are led by first-year head coach Dave Brock and will play their home opener at 7:30 p.m., Thursday, Aug. 29, against Jacksonville (Fla.) University.
Other alumni activities are as follows:
Sunday, Aug. 25, 11:30 a.m.: Baseball series: New York. The summer baseball series will continue as the New York Mets host the Detroit Tigers. Alumni can enjoy private space in Modell's Clubhouse.
Tuesday, Aug. 27, 5 p.m.: Baseball series: Boston. UD alumni will gather at Fenway Park, where the Red Sox will host the Baltimore Orioles. There will be a pregame reception at nearby Bertucci's.
Thursday, Aug. 29, 7 p.m.: Bethlehem, Pa., concert. Blue Hens are invited to a free outdoor concert in Bethlehem, Pa., featuring four-time Grammy nominee Cedric Wilson and his band Bijou Creole.
Saturday, Aug. 31, 1 p.m.: Baseball series: Chicago. Alumni in the Chicago area are invited to Wrigley Field, where the Cubs will host the Philadelphia Phillies. There will be a buffet lunch at Rockit Burger Bar in Wrigleyville.
Saturday, Sept. 7, noon: Youth Cheer Day. UD Athletics Youth Cheer Day will be held, and is open to girls ages 12 and younger. The event is open to young Blue Hens of any cheer skill level.
Sunday, Sept. 8, 1 p.m.: Baseball series: Lancaster, Pa. Alumni are invited to watch the Lancaster Barnstormers in a game at Clipper Magazine Stadium on North Prince Street. There will be a pregame buffet.
Wednesday, Sept. 11, 5:30 p.m.: Art History Graduate Student Lecture Series. Lauren Peterson, associate professor of art history at UD, will inaugurate the 2013-14 Department of Art History Graduate Student Lecture Series with a presentation titled "Slaves in the Streets of Pompeii: Through the Thicks and Thins of Urban Movement."
Saturday, Sept. 14, 12:30 p.m.: UD vs. Navy Football Tailgate. Enjoy a tailgate with fellow Blue Hens in Annapolis before the UD football team takes on the Navy for the last time.
Monday, Sept. 16, 6 p.m.: Tailgate cooking demonstration. UD alumna Debbie Ellingsworth of the Class of 1977, chef at the Vita Nova restaurant on campus, will present a cooking demonstration highlighting top tailgate dishes at Delaware Stadium.
Friday, Sept. 20, 5 p.m.: UD Alumni Baseball Series: Baltimore Orioles @ Tampa Bay Rays. Join Tampa Bay Blue Hens for the annual summer baseball game as the Tampa Bay Rays take on the Baltimore Orioles, preceded by a reception at Ferg's Sports Bar.
Saturday, Sept. 21, 9 a.m.-1 p.m. or 1-5 p.m.: UD Day of Service. Alumni are invited to participate in the UD Day of Service by volunteering at the Pennsylvania Horticulture Society Fall Garden Festival, to be held at the Philadelphia Navy Yard on South Broad Street.
Thursday, Sept. 26, 5:30 p.m.: CEOE School of Marine Science and Policy Alumni Reception & Celebration. Join Dean Nancy Targett and special guest Lee Anderson in Washington, D.C., to celebrate Anderson's extensive UD career since 1974.
The Office of Alumni Relations recognizes and thanks the UD Alumni Association for its support of several of these events.
Photo by Mark Campbell