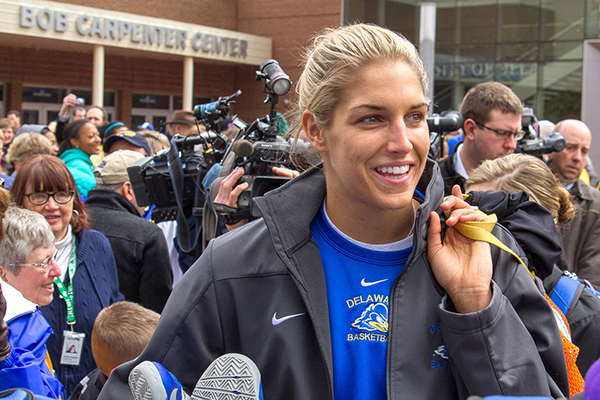 Alumni activities
Blue Hens in Los Angeles, Seattle can cheer Elena Delle Donne
10:04 a.m., Aug. 9, 2013--University of Delaware alumni will get together in Los Angeles and Seattle to watch Blue Hens great Elena Delle Donne compete for the Chicago Sky in a pair of WNBA contests.
Delle Donne and the Sky will take on the host Los Angeles Sparks in a game Tuesday evening, Aug. 13, at the Staples Center and the host Seattle Storm in a game Thursday evening, Aug. 15, at the Key Arena.
'Resilience Engineering'
The University of Delaware's Nii Attoh-Okine recently published a new book with Cambridge University Press, "Resilience Engineering: Models and Analysis."
Reviresco June run
UD ROTC cadets will run from New York City to Miami this month to raise awareness about veterans' affairs.
The Los Angeles event will feature seats close to the Sky bench. For details on the game, click here.
The Seattle event will include a pregame reception at Buckley's beginning at 5:30. For details, click here.
Alumni are encouraged to wear Delaware blue and gold to the game.
Delle Donne, the second overall pick in the WNBA draft, has had a stellar first season in the professional league. She is averaging 17.9 points and 5.2 rebounds per game, and was the first rookie to lead in the league's all-star balloting. 
Other alumni activities are as follows:
Thursday, Aug. 15, 6 p.m.: Baseball series: Richmond. Alumni can bring the whole family to Richmond's Diamond to cheer on the Flying Squirrels and enjoy a picnic dinner and free access to the HCA Kid's Zone.
Sunday, Aug. 18, 3:30 p.m.: Baseball series: Long Island. Blue Hens are invited to a day at Bethpage Ballpark in Islip, N.Y., to cheer on the 2012 Atlantic League champions, the Long Island Ducks. Alumni can come early to enjoy a picnic buffet.
Sunday, Aug. 25, 11:30 a.m.: Baseball series: New York. The summer baseball series will continue as the New York Mets host the Detroit Tigers. Alumni can enjoy private space in Modell's Clubhouse.
Tuesday, Aug. 27, 5 p.m.: Baseball series: Boston. UD alumni will gather at Fenway Park, where the Red Sox will host the Baltimore Orioles. There will be a pregame reception at nearby Bertucci's.
Thursday, Aug. 29, 7 p.m.: Bethlehem, Pa., concert. Blue Hens are invited to a free outdoor concert in Bethlehem, Pa., featuring four-time Grammy nominee Cedric Wilson and his band Bijou Creole.
Saturday, Aug. 31, 1 p.m.: Baseball series: Chicago. Alumni in the Chicago area are invited to Wrigley Field, where the Cubs will host the Philadelphia Phillies. There will be a buffet lunch at Rockit Burger Bar in Wrigleyville.
Sunday, Sept. 8, 1 p.m.: Baseball series: Lancaster, Pa. Alumni are invited to watch the Lancaster Barnstormers in a game at Clipper Magazine Stadium on North Prince Street. There will be a pregame buffet.
The Office of Alumni Relations recognizes and thanks the UD Alumni Association for its support of several of these events.
Photo by Mark Campbell