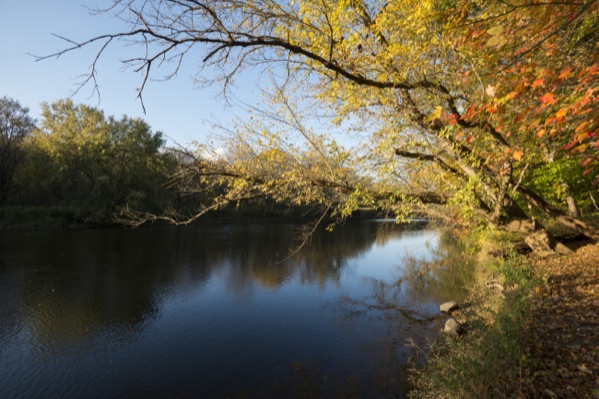 Watershed investment
Nature Conservancy, UD partner on innovative funding mechanism for Brandywine-Christina
1:52 p.m., April 8, 2014--Under a grant from the William Penn Foundation, The Nature Conservancy in Delaware (TNC) and the University of Delaware's Water Resources Agency (WRA) are conducting a feasibility study on the implementation of a "water fund" for the Brandywine-Christina watershed.
At its most basic level, a water fund is a mechanism for downstream beneficiaries to invest in upstream conservation and restoration measures designed to secure freshwater resources -- both quality and quantity -- for people and nature. 
From graduates, faculty
As it neared time for the processional to open the University of Delaware Commencement ceremonies, graduating students and faculty members shared their feelings about what the event means to them.
Doctoral hooding
It was a day of triumph, cheers and collective relief as more than 160 students from 21 nations participated in the University of Delaware's Doctoral Hooding Convocation held Friday morning on The Green.
The grant is part of a $35 million multi-year initiative by the William Penn Foundation to protect and restore critical sources of drinking water for 15 million people. The total set of grants fund an unprecedented collaboration of leading conservation organizations that will align their work to protect land, restore streams, test innovative approaches in ecologically significant places, and monitor results over time. 
"We couldn't be more grateful for this opportunity," said Richie Jones, TNC's Delaware state director. "The William Penn Foundation's bold and unprecedented initiative squares perfectly with The Nature Conservancy's global priority of securing freshwater, our science-driven, whole-watershed-scale approach to conservation and our recognition that collaboration is vital to accomplishing meaningful and lasting change." 
During the first year of the project, TNC and UD will assess the feasibility of a water fund for the Brandywine-Christina, including a review of case studies, technical analysis, engagement of an advisory panel, interviews with key stakeholders, and the preparation of a final report with detailed recommendations. 
The Brandywine-Christina watershed provides over 100 million gallons of drinking water a day to more than half a million people, including approximately 60 percent of Delaware's residents. The watershed covers 565 square miles, crossing Delaware, Pennsylvania and Maryland. 
"The Brandywine-Christina provides real and significant economic benefits to Delaware and Pennsylvania," explained Gerald J. Kauffman, director of UD's Water Resources Agency, which is a unit of the Institute for Public Administration within the School of Public Policy and Administration. "The value of drinking water alone in the Brandywine-Christina is $276 million, and when you add additional economic benefits such as agriculture, water quality, and recreation, the value of the watershed is over $1.6 billion. Improving the health of the watershed will support jobs and is essential for economic growth. Our hats are off to the William Penn Foundation for this incredibly important initiative." 
Legacy pollutants, nutrient overloads, failing septic systems and urban runoff have rendered the great majority of streams, rivers and lakes in the Brandywine-Christina watershed unsafe for swimming and fishing, let alone drinking without substantial processing and treatment. Lack of consistent and stable funding is one of the biggest obstacles to progress in restoring the watershed. 
UD and TNC are hopeful that a water fund may help solve that problem by allowing strategic, science-driven prioritization of restoration projects and creative financing options to provide capital sufficient to meet water quality goals (swimmable, fishable, potable) by 2025. 
William Penn's $35 million investment in the Delaware River Watershed features eight "clusters" of sub-watersheds, constituting approximately 25 percent of the total Delaware River Basin across four states, where analysis has shown that investment in targeted efforts to protect or improve water quality in specific streams and rivers could deliver significant returns. 
Restoration and preservation efforts in these sub-watersheds, like the Brandywine-Christina water fund work, not only contribute directly to the water quality in the Delaware Basin, but will also serve as incubators for cultivating a wide range of effective approaches for expanding investment across the watershed, and ultimately in other river basins across the country.
Photo by Evan Krape