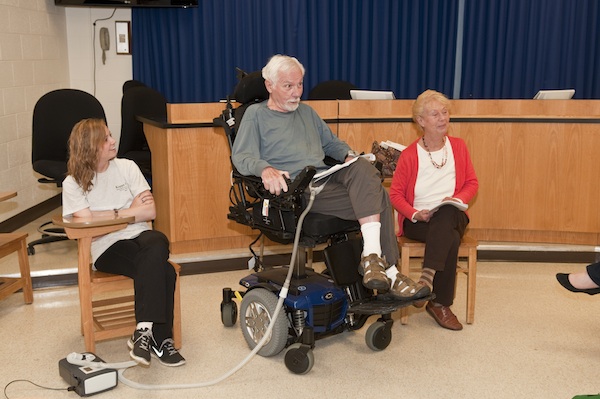 April 24: Ron Wenger Memorial Lecture
Lori's Hands hosts lecture to honor legacy of ALS patient, former UD faculty member
8:43 a.m., April 15, 2014--The Lori's Hands registered student organization at the University of Delaware will host the Ron Wenger Memorial Lecture at 6 p.m., Thursday April 24, at the Health Sciences Complex on the Science, Technology and Advanced Research (STAR) Campus.
The lecture will honor the legacy of Prof. Wenger, who had amyotrophic lateral sclerosis (ALS), also known as Lou Gehrig's disease. 
June 5: Blue Hen 5K
University of Delaware graduates planning to attend Alumni Weekend are encouraged to register for the annual Blue Hen 5K walk and run, which will be held Sunday morning, June 5.
June 6-9: Food and culture series
The 20th annual June Lecture Series at the Osher Lifelong Learning Institute at UD in Wilmington will be held June 6-9. Titled 'June a la Carte,' this year's program focuses on great political documents, feminism, world politics and a Newark cuisine sampler.
"Ron and his wife, Sherry, maintained infectiously positive attitudes in the face of his diagnosis and were both willing and eager to share their story with Lori's Hands volunteers, UD nursing and physical therapy students, and other future caregivers," says Lori's Hands president Alexa Rivadeneira. 
In this spirit, the event will include a tribute to Wenger, an "ALS 101" presentation by regional nurse coordinator Gail Houseman of the ALS Association, and a talk by ALS patient Chuck Morris, who will share his personal story.
During the time of the lecture, parking is free at the UD STAR Campus. The UD shuttle bus runs from the main campus to the STAR Campus (540 S. College Ave., Newark, DE 19713) throughout the evening.
For more information, email Katie Bonanno at kbonanno@udel.edu or call Sarah LaFave at 302-831-8375. Though not required, RSVPs to Bonanno or LaFave are encouraged.
Article by Diane Kukich
Photo by Doug Baker