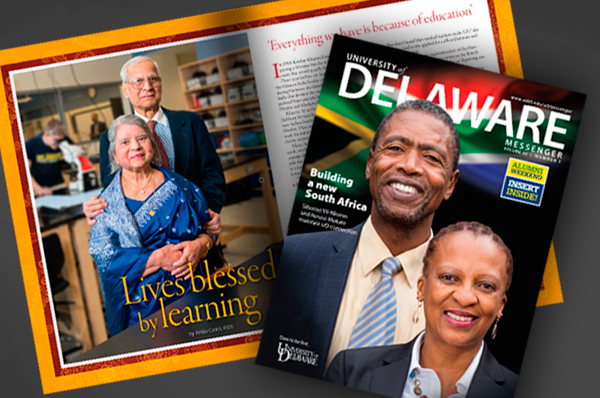 New 'UD Messenger'
April issue of University of Delaware Messenger magazine now available online
11:40 a.m., April 14, 2014--The newest edition of the University of Delaware Messenger magazine can be viewed online at this website, where an interactive PDF version also is available. The print magazine, which is sent to alumni, parents and friends, is being mailed later this week.
The Messenger contains news from the campus, including articles about faculty and student research and athletics, as well as profiles of University alumni and their remarkable accomplishments.
From graduates, faculty
As it neared time for the processional to open the University of Delaware Commencement ceremonies, graduating students and faculty members shared their feelings about what the event means to them.
Doctoral hooding
It was a day of triumph, cheers and collective relief as more than 160 students from 21 nations participated in the University of Delaware's Doctoral Hooding Convocation held Friday morning on The Green.
The current issue features a cover story on Sibusiso Vil-Nkomo and Renosi Mokate, a South African couple who each earned master's and doctoral degrees in public administration at UD in the 1980s, when their homeland was in the grip of apartheid. Later, at the urging of Nelson Mandela, they returned to take leadership roles in the new democratic government of South Africa, where today they continue to use the education they acquired at the University and to forge partnerships with their alma mater.
An article in the magazine's Research section describes work at the South Pole, conducted through an international collaboration that includes UD, involving a huge telescope built deep in the Antarctic ice. Discoveries using that instrument last year yielded new insights into cosmic neutrinos that, scientists say, have ushered in a new age of astronomy.
A few of the alumni stories in the Messenger profile an engineer whose research team has developed a revolutionary prosthetic arm controlled by the user's brain, two alumni who work for separate agencies dedicated to preserving and protecting the spectacular blue waters of Lake Tahoe and a former Blue Hen soccer player who's the new president and CEO of the NBA's Portland Trail Blazers.
Messenger readers can enjoy photos and news from campus, including a look at the health sciences facilities available on the new Science, Technology and Advanced Research (STAR) Campus, site of the former Chrysler assembly plant. And, just in time for spring planting, learn from a faculty expert how your backyard garden can be both beautiful and beneficial to the local ecosystem.
This issue of the magazine also includes a special insert describing the many activities, and registration information, for Alumni Weekend, to be held June 6-8 on campus.