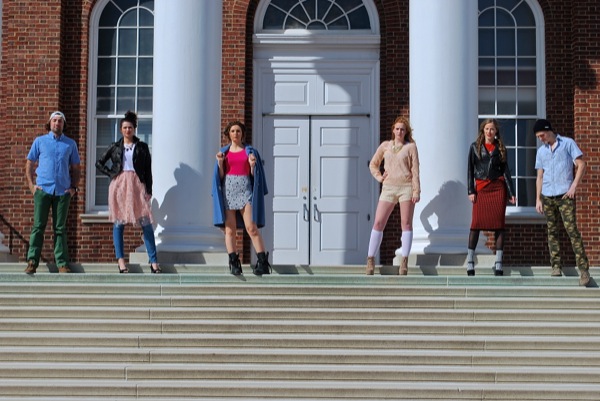 Trendy Hens
UD social media, UDress team up on spring fashion photo shoot
12:31 p.m., April 7, 2014--Just in time for the long-awaited spring, the social media team in the University of Delaware's Office of Communications and Marketing and UDress Magazine teamed up to share some fashion inspiration with trendy Hens.
In a photo shoot styled, directed and photographed completely by UD students, Blue Hens model some daring fashion ensembles. Models and stylists rushed around The Green in mid-March, finding the perfect angles to showcase outfits featuring pieces from local fashion vendors. 
From graduates, faculty
As it neared time for the processional to open the University of Delaware Commencement ceremonies, graduating students and faculty members shared their feelings about what the event means to them.
Doctoral hooding
It was a day of triumph, cheers and collective relief as more than 160 students from 21 nations participated in the University of Delaware's Doctoral Hooding Convocation held Friday morning on The Green.
Beginning April 7, all those looking to breathe some new life into their wardrobe can see the looks on the University of Delaware's 'Trendy Hens' Pinterest board, as well as on the UDress Magazine website. 
The theme for the shoot — #UDressToImpress — aims to empower Blue Hens looking to take some fashion risks. 
Trendy Hens are encouraged to share their daily fashion adventures on social media with the hashtag #UDressToImpress. 
To submit an outfit or style idea to the University of Delaware's Pinterest page, email socialmedia@udel.edu.
Photo by Nicole Kisrchner