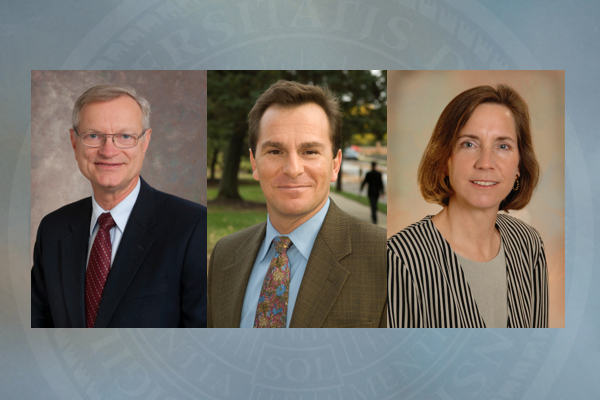 'Sustainability chats'
UD faculty, staff to discuss sustainability concerns with students, UD community
12:41 p.m., April 16, 2014--Three University of Delaware residence halls will open their doors to the campus community on Tuesday, April 22, to join residents in a selection of "sustainability chats" with faculty and staff. The events are sponsored by Residence Life and Housing.
Jennifer Pyle, Tom Powers and Rich Chapas will visit the residence halls to share their passions and expertise around sustainability issues affecting the University community and beyond. 
June 6: UDid It! Picnic
All UD faculty and staff members are invited to attend the annual UDid It! employee appreciation picnic, set from 11 a.m.-1:30 p.m., Monday, June 6, on The Green.
2FA protects you
If you are using two-factor authentication (2FA), even if a hacker has your password, your information is probably safe.
The schedule is as follows:
Jennifer Pyle, Brown Hall Lounge, 7:30 p.m.
Tom Powers, James Smith Lounge, 7:30 p.m.
Rich Chapas, The Rodney Corner, 8 p.m.
The chats are free and open to the public. 
More about the participants
Jennifer Pyle of Environmental Health and Safety is the University's storm water program manager. Pyle ensures that the University is educating the public and maintaining our storm water management areas. 
Pyle is a member of the UD Watershed Action Team for Ecological Restoration (UD WATER). Pyle and the UD WATER team are passionate about increasing the quality of local creeks and waterways by managing polluted runoff.
Tom Powers, associate professor of philosophy and specialist in scientific ethics, directs UD's Center for Science, Ethics and Public Policy. The center's activities cover three main areas: sponsoring lectures and discussions around ethical issues of high social interest, facilitating interdisciplinary collaboration and publication on ethical issues that emerge from science and technology, and engaging the private sector and public interest groups in addressing social ethical concerns.
Powers' primary areas of research center around environmental ethics of emerging technologies, the environment, and nanotechnology and research. He will spend some time talking to students about the values of conservation and preservation within the environmentalist movement.
Rich Chapas, a faculty member in the Alfred Lerner College of Business and Economics, boasts a breadth of experience developing and commercializing new products, with a patent portfolio that currently generates more than $30 million in sales. Chapas focuses on sustainability, biobased materials and industrial research.  
Chapas has worked in research and development at various companies, including Kimberly-Clark, Johnson & Johnson, and Eastman Kodak. He is also a member of the executive board of the University's Sustainability Task Force.