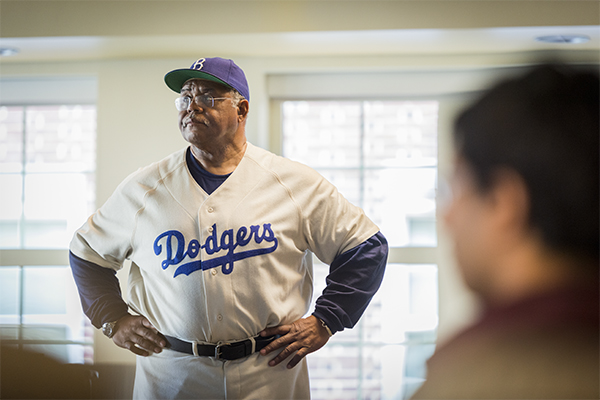 Sports, race, culture
Honors class explores effects of racism in American sports history
2:48 p.m., April 22, 2014--If there is one thing that the University of Delaware's Ronald Whittington especially enjoys about teaching his Honors colloquia class on "The Impact of Sports on Race and Culture," it's helping students become aware of the racial bigotry and injustice faced by black and Native American athletes during the era of segregation and Jim Crow laws. 
During a recent session held April 14 in Louis L. Redding Hall, Whittington, an adjunct faculty member in the UD Honors Program, discussed how stellar athletes including Olympic champion Jesse Owens and boxer Joe Louis were treated by fans who cheered them on the field but barred their entry to housing, education and public accommodations.
'Resilience Engineering'
The University of Delaware's Nii Attoh-Okine recently published a new book with Cambridge University Press, "Resilience Engineering: Models and Analysis."
Reviresco June run
UD ROTC cadets will run from New York City to Miami this month to raise awareness about veterans' affairs.
The class also included a showing of 42, a film based on the experience of Jackie Robinson and Brooklyn Dodgers executive Branch Rickey as they teamed up to break the color barrier in major league baseball just after World War II. 
Whittington, who graduated from UD in 1971, began by referring to a previous class and lines from the poem The Pulse of the Morning by Maya Angelou.
"History, despite its wrenching pain,
Cannot be unlived, and if faced
With courage, need not be lived again." 
"One of the things that I feel so good about the class is that we are getting some of our brightest and best students to look at things beyond the pale," Whittington said. "They are looking at things that actually happened in history, and it's hard for them to believe some of these things happened." 
One of the historical figures discussed in the class was Truman Gibson Jr., who fought racial discrimination in World War II as a high-level adviser in the U.S. War Department and later became a powerful professional boxing promoter in Chicago.
"Truman Gibson is important because he was the person who would go back and look at some of the issues that were particularly happening to black soldiers and Native American soldiers," Whittington said. "They were, in a number of cases, dealt with very severely." 
Many people would never consider the story of Jesse Owens, and the way he was treated after winning four gold medals at the 1936 Summer Olympics in Berlin, Germany, as being a human rights issue, Whittington said.
"Coming back to America, Owens was treated to ticker tape parades," Whittington said. "Yet, he couldn't come in the front door of the Waldorf Astoria and had to take the freight elevator to reach the reception honoring him. President Franklin D. Roosevelt never invited Jesse to the White House following his victories in Berlin." 
Students in the class also learned about boxing great Joe Louis and how he spent his last days in abject poverty, Whittington said. 
"Joe Louis, who was called the 'Face of America,' actually died in total poverty begging for handouts in Las Vegas," Whittington said. "People like Frank Sinatra and others took care of him because they loved Joe Louis and what he stood for." 
Also discussed was Gretel Bergmann, a German Jewish high jump champion who was expelled from the Ulmer FV 1894 club in 1933 because she was Jewish. Having then been sent to England by her parents, she retuned to her native country at the request of the Nazi government, which wanted the country to be portrayed as one with liberal ideals during the course of the 1936 Olympic Games. 
The real story is that the members of her family who had stayed in Germany were threatened with reprisals if she did not return and compete. Two weeks before those Olympics she was removed from the German national team, supposedly for under-performance. 
"We looked at this and how Hitler manipulated the world into coming to Germany for the Olympics," Whittington said. "Gretel Bergmann was a world champion, and today her story is largely forgotten." 
Whittington noted how Jackie Robinson, called the "Toast of Brooklyn" for his heroics on the baseball diamond at Ebbets Field, was not allowed to buy a house in Brooklyn, and lived in Connecticut. 
"Each time the class reaches an area of history that is uncomfortable, students tell me they that they can't believe that these things happened, especially to Joe Louis," Whittington said. 
"Young people have so much they want to know, and in some cases, no one has told them," Whittington said. "They are curious about the inhumanity to man and how people could be like that to their fellow humans." 
It was also fitting to have the class be held in a residence hall named for pioneering Delaware civil rights attorney Louis L. Redding, Whittington said.
"Burton v. Wilmington Parking Authority was filed by Louis L. Redding, in which the U.S. Supreme Court ruled that refusing to serve William Burton on the basis of his race violated the Equal Protection Clause of the 14th Amendment," Whittington said. "It became the precedent for a number of such cases and is still read today by students in law school." 
Article by Jerry Rhodes
Photo by Evan Krape