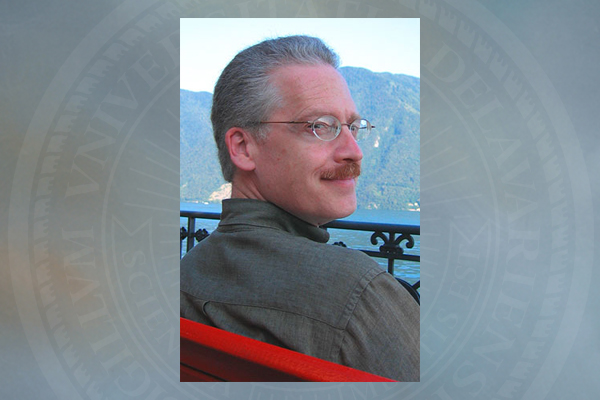 Senior Thesis Symposium
60 students to present research at Senior Thesis Symposium on May 3
1:54 p.m., April 23, 2014--The University of Delaware Senior Thesis Symposium, hosted by the Office of Undergraduate Research and Experiential Learning, will be held Saturday, May 3, from 9 a.m. to 12:30 p.m. in Perkins Student Center. Approximately 60 Senior Thesis Candidates will present talks or posters on their research.
The Senior Thesis Symposium showcases the work of senior thesis students from a wide range of disciplines at UD. Each presenter is a candidate for either the degree with distinction or the honors degree with distinction.
Chronic wounds
UD's Millicent Sullivan and Kristi Kiick have received a $1.4 million grant from the National Institutes of Health for research that could provide a new approach to the treatment of chronic wounds.
Prof. Heck's legacy
The American Chemical Society is highlighting the legacy of the late Nobel laureate Richard Heck, the Willis F. Harrington Professor Emeritus of Chemistry at the University of Delaware with a digital tribute on its publications website.
The symposium speaker will be Lawrence Principe, Drew Professor of the Humanities at Johns Hopkins University. Principe received an honors bachelor of arts degree in liberal studies and a bachelor of science in chemistry, both magna cum laude, from UD in 1983. 
Principe has broad interests in early modern science and technology (1500-1750), with a specialization in the history of chemistry/alchemy. His research encompasses traditional and innovative methods, ranging from textual analysis and archival research to replicating alchemical processes in a modern laboratory using historical apparatus and materials. 
He employed all of these approaches in his latest book for general audiences, The Secrets of Alchemy, published by the University of Chicago Press in 2012.
Senior thesis candidates work throughout their final year at UD, learning how to conduct research by taking an active role in the process. Sponsored by a faculty member, the candidates receive guidance in understanding research and becoming more engaged in a scholarly environment. The dissemination of results and of work in progress is an integral part of any research, and the symposium marks the culmination of these students' projects.
The Senior Thesis Symposium is open to the public, and members of the community are welcome to stop by at any time during the presentations. A preliminary program can be viewed on the Undergraduate Research Office website.