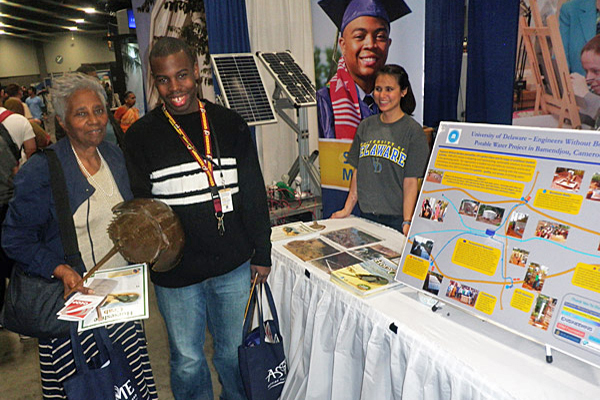 Science fest
Robots headline UD booth at USA Science and Engineering Festival
2:58 p.m., April 24, 2014--Youngsters and adults will have no doubt about the fact that science can be fun after visiting the University of Delaware's booth (No. 3040) at the USA Science and Engineering Festival this Saturday and Sunday, April 26-27, from 9 a.m. to 6 p.m., at the Walter E. Washington Convention Center in Washington, D.C.
Robots will be the theme at UD's booth, organized by the Research Office. Engineering students from the research group of Bert Tanner, associate professor of mechanical engineering, will offer visitors the opportunity to manipulate two different kinds of robots: one that does handwriting, and another that is actually a 3-D printed robot that demonstrates a number of cool locomotion concepts.
Chronic wounds
UD's Millicent Sullivan and Kristi Kiick have received a $1.4 million grant from the National Institutes of Health for research that could provide a new approach to the treatment of chronic wounds.
Prof. Heck's legacy
The American Chemical Society is highlighting the legacy of the late Nobel laureate Richard Heck, the Willis F. Harrington Professor Emeritus of Chemistry at the University of Delaware with a digital tribute on its publications website.
Physical therapy and engineering graduate students from the laboratory of Cole Galloway, associate professor and interim chair of the Department of Physical Therapy, will showcase UD's nationally renowned research to adapt toy ride-on racecars into "baby robots" that give children with mobility issues the freedom to explore their world. Those who attend are encouraged to visit the UD booth for special giveaways. 
The festival is free and open to all ages. It will feature over 3,000 different hands-on activities, experiments, and lots of scientists and engineers to talk to, along with 100 stage shows, ranging from science magicians to Bill Nye the Science Guy. 
The mission of the USA Science and Engineering Festival is "to re-invigorate the interest of U.S. youth in science, technology, engineering and math (STEM) by producing and presenting the most compelling, exciting, educational and entertaining science festival in the United States." 
For more information, visit the festival website.