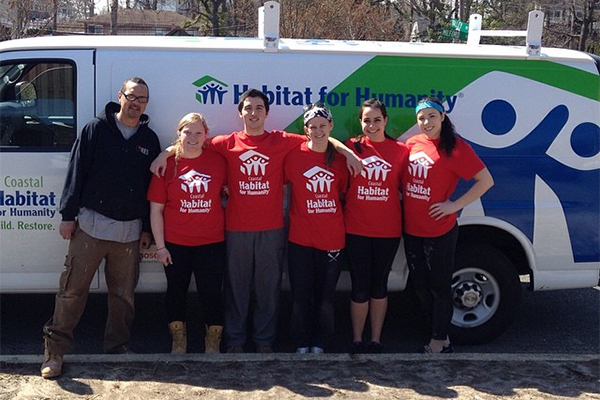 RLHAB volunteers
Resident students volunteer during spring break to rebuild homes hit by Hurricane Sandy
11:33 a.m., April 23, 2014--Nine University of Delaware resident students traveled to Monmouth County, N.J., over spring break for the Residence Life and Housing Alternative Break (RLHAB) service project, restoring and rebuilding communities damaged by Hurricane Sandy.
"This program helps students understand their place in the community while forming strong bonds with other students in the residence halls," said Tierra Fields, residence hall coordinator with Residence Life and Housing and coordinator of the program.
From graduates, faculty
As it neared time for the processional to open the University of Delaware Commencement ceremonies, graduating students and faculty members shared their feelings about what the event means to them.
Doctoral hooding
It was a day of triumph, cheers and collective relief as more than 160 students from 21 nations participated in the University of Delaware's Doctoral Hooding Convocation held Friday morning on The Green.
Matt Rojas is a political science and public policy major from Commack, N.Y., and one of the nine RLHAB participants. 
"I chose to participate in RLHAB because I wanted to do something meaningful with my spring break and effect tangible change by helping those in need," Rojas said. "Being from Long Island, I was personally affected by Hurricane Sandy, so it deeply disturbed me that families were still living without a home and as a result, I felt a strong sense of duty to help out in any way that I could. RLHAB turned out to be the perfect way to do just that."
Other students connected to the program in different ways. Amanda Flagg, a psychology and Spanish double major from Toms River, N.J., said she felt the same desire to help on a project that hit close to home – both geographically and vocationally.
"When I heard about RLHAB, and especially where the trip was being held, I felt like the opportunity was directed to me personally," said Flagg. "I live in the county over from where we would be building. How great would it be to be able to help rebuild in my own backyard. I was president of my high school's Habitat for Humanity club, which also put Habitat's mission close to my heart, as well."
The student participants are some of the many UD students who show a dedication to leadership and service to both the University community and to the community at-large, Fields said. 
Along with his coursework in his major, Rojas is minoring in economics and in philosophy, is president of the Redding, Gilbert, Smyth Complex Community Council, co-president of the Roosevelt Institute, and vice president of the speech and debate team while also serving in the Army ROTC.
Flagg is the Rodney Community Council secretary, and a member of the National Residence Hall Honorary (NRHH) and of the Resident Student Association (RSA).
"I know some people say that service is both selfless as well as selfish, but I like to think of it as mutually beneficial," Flagg said, explaining her commitment. "I do service because I love seeing people smile. I do it for me, because I can be myself, focus on the important things, and give people the opportunity for a better life. Service gives a whole new meaning to the word 'live.'"
Did participants lose out by giving up the chance to simply vacation during spring break?
"Ultimately, this trip was one of the best weeks of my life," said Rojas. "I learned so much about the man that I would like to be. I gained a completely new perspective on life that now allows me to see the bigger picture when facing problems, be it schoolwork, friends, or anything else that I might have previously stressed over even though it was not such a big deal in hindsight. I am so inspired to continue with service and do everything in my power to help those in need. Lastly, and perhaps most importantly, I gained a new family of people that share my values of altruism, duty, and integrity."
Flagg agreed, saying, "I've made so many new friends on this trip and I can honestly say that we are a family. We met people on this trip that had such special stories, and regardless of where we each come from, we can all take at least one part of what everyone has been through, and hold it with us."
This is the inaugural year for the RHLAB program that encourages students to participate in established service opportunities sponsored by Residence Life and Housing, such as the Martin Luther King Jr. Day of Service and weekly service initiatives, culminating in the week spent in New Jersey with Coastal Habitat for Humanity.
"RLHAB provided some of our students the opportunity to participate in service throughout the entire year," Fields said. "Since they've returned, participants have already begun actively participating in and planning service initiatives both on and off campus to connect to the greater community."
Article by Tabitha Groh