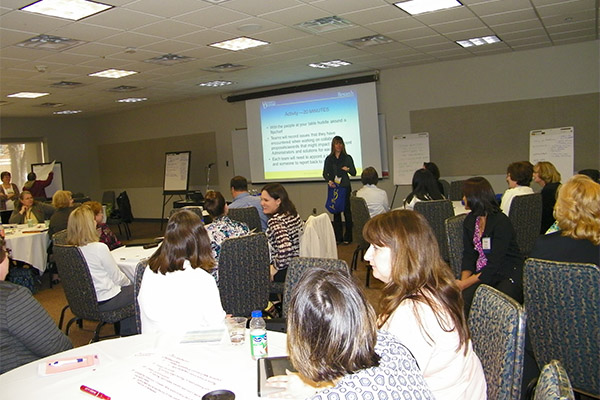 Research process
UD's annual Research Administrator Conference a success
2:35 p.m., April 29, 2014--The University of Delaware's annual Research Administrator Conference, held April 9 at Clayton Hall, attracted more than 190 participants, including research support staff representing all seven colleges and UD sites across the state of Delaware. 
Guests also were present from Christiana Care Health System, Delaware State University, Delaware Technical Community College, Nemours/Alfred I. duPont Hospital for Children and Wesley College.
Chronic wounds
UD's Millicent Sullivan and Kristi Kiick have received a $1.4 million grant from the National Institutes of Health for research that could provide a new approach to the treatment of chronic wounds.
Prof. Heck's legacy
The American Chemical Society is highlighting the legacy of the late Nobel laureate Richard Heck, the Willis F. Harrington Professor Emeritus of Chemistry at the University of Delaware with a digital tribute on its publications website.
Information tables were hosted by Environmental Health and Safety, HR–Employee Wellness/Education, Faculty and Staff Assistance Program, University Development-Corporate and Foundation Relations, Office of Economic Innovation and Partnerships, HR-Records Management and Payroll, Information Technologies, Morris Library, Office of Graduate and Professional Education, the Undergraduate Research Program, and the Research Office.
The Research Administrator Conference provides staff from all departments, colleges, research institutes and centers the opportunity to learn about local and national updates regarding the research process.
The day began with a welcome session featuring presentations by Cordell Overby, associate vice provost for research and regulatory affairs; Trudy Riley, assistant vice provost of research administration; and Leigh Botner, director of research development. 
Guest speaker Stuart Binder-Macleod, Edward L. Ratledge Professor and chair of the Department of Physical Therapy, provided a well-received presentation about principal investigators and research administrators working together to create a team approach to the research administrative process. He was even asked if he would take his presentation "on the road" for other principal investigators to hear.
For the remainder of the day, participants could select from several of the following sessions: "Understanding the Pre-Award Process," "Partnering with Collaborators Inside and Outside of UD," "Advanced Accounting Discussion," "Fly America/Open Skies," "Sub-Recipient Monitoring," "Managing Effort: Award to Close Out," "Automated Close-Out Reports: How to be Successful," "Recognizing Complex Matters within Human Subject Research," and "Uncommon Contracting and Grant Issues."
The conference archives can be found at this website and future Research Office training initiatives can be found at this site.