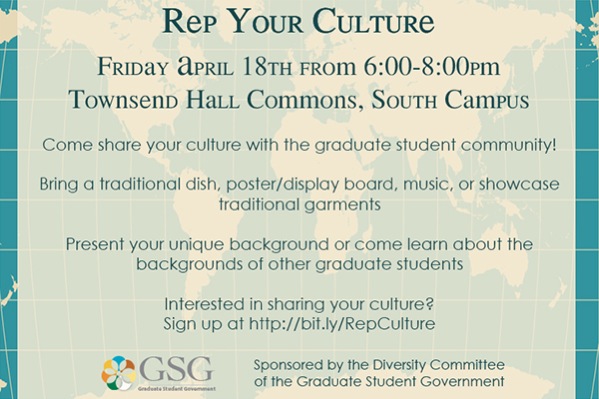 April 18: Rep Your Culture
Graduate students plan event to share global cultures with campus colleagues
1:56 p.m., April 8, 2014--Rep Your Culture, a special event in which University of Delaware graduate students are invited to share their cultures with colleagues, will be held at 6 p.m., Friday, April 18, in the Townsend Hall Commons on South Campus.
The event is sponsored by the Graduate Student Government Diversity Committee.
Fulbright awards
Three University of Delaware students and an alumna have received word this spring that they will travel abroad as part of the newest class of Fulbright Student Program award winners.
Peace Corps plans
Two University of Delaware students, John McCarron and Bridgette Spritz, have been selected as Peace Corps volunteers and will serve in Ghana and Rwanda.
Students are invited to bring a traditional dish, a poster or display board or music, or to showcase traditional garments.
"It is an opportunity to present your unique background or come learn about the backgrounds of other graduate students," a Rep Your Culture representative said.
Those who are interested in sharing their culture can register at this website.
For additional information, contact Holly Walker at hollylyn83@gmail.com.