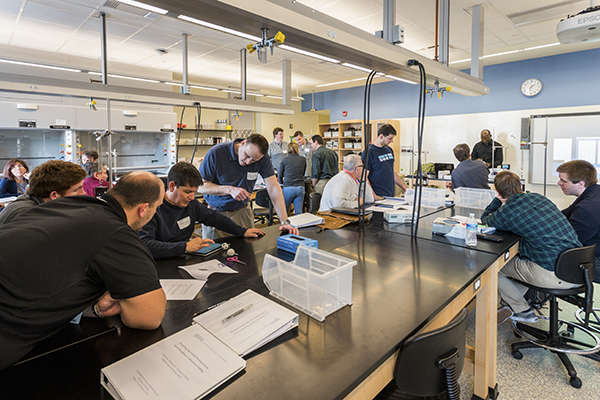 One-stop learning
New UD Professional Development Center for Educators launched
10:04 a.m., April 16, 2014--The University of Delaware College of Education and Human Development (CEHD) provides educators throughout the state with professional development services -- working with K-12 teachers and administrators to improve student outcomes on a range of subjects.  Traditionally, these workshops were offered by individual centers, segmented by content area. 
To better serve school districts, CEHD Dean Lynn Okagaki has announced that the college has integrated three units into one center. The Mathematics and Science Education Resource Center (MSERC), the Delaware Reading and Writing Project and the Delaware Social Studies Education Project have been merged into a single center – UD's Professional Development Center for Educators (PDCE). 
From graduates, faculty
As it neared time for the processional to open the University of Delaware Commencement ceremonies, graduating students and faculty members shared their feelings about what the event means to them.
Doctoral hooding
It was a day of triumph, cheers and collective relief as more than 160 students from 21 nations participated in the University of Delaware's Doctoral Hooding Convocation held Friday morning on The Green.
Under the leadership of Carol Vukelich, director of the Delaware Center for Teacher Education, PDCE will now provide teacher professional development in English language arts, math education, social studies education and science education, as well as instructional practices, such as social curriculum and project based learning. 
"By combining these units, PDCE will be able to provide school districts a package of collective services as needed by their teachers," said Vukelich. "We will be positioned to break down the single subject model and address the educational field's need for the integration of the core content areas, as the new standards require us to do."
John Pelesko, professor and chair of the Department of Mathematical Sciences, said he is eager to work with PDCE on mathematics professional development, to provide top-notch professional development for teachers. 
"This new center is a wonderful idea, helping to break down disciplinary silos," said Pelesko. "I anticipate more of our mathematical sciences faculty becoming involved, helping to spark novel cross-disciplinary professional development initiatives -- new initiatives that are definitely needed in K-12."
Examples of collaborative programs are already in evidence with the awarding of two grants through the Delaware Department of Education. The K-12 Mathematics Partnership Project will help educators in the state's public and charter schools learn how to teach differently to engage their students in math and science in new and more effective ways.
A two-year Mathematics and Science Partnership (MSP) grant will provide professional development for science, technology, engineering and mathematics (STEM) teachers, allowing them to engage in interdisciplinary problem-based learning and helping them to better understand and implement the upcoming Next Generation Science Standards as related to the national Common Core State Standards. 
The center will also be aggressively pursuing federal grants to conduct research on the efficacy of the professional development the center delivers, rigorously testing its impact on student learning. 
"By introducing a research component to our work, we will be able to evaluate our programs, measure their impact on student learning, and continuously improve the quality and effectiveness of our professional development programs," said Okagaki. "Our goal is to ensure that what we do not only enhances the quality of teachers' practices but also clearly improves student outcomes."
For more information on the services PDCE can provide, visit the website.
Article by Alison Burris
Photo by Evan Krape