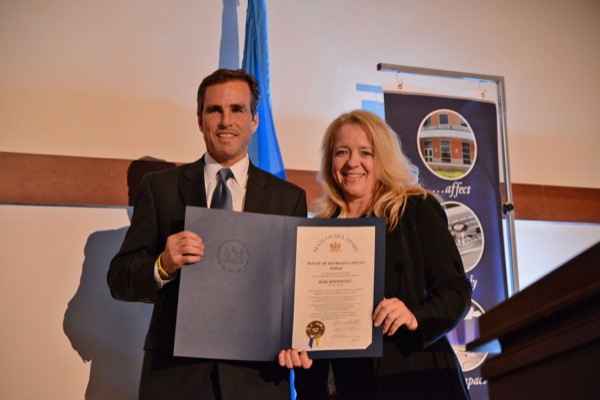 To Iraq and back
Journalist's injury changes career focus, brings attention to Wounded Warriors
12:33 p.m., April 30, 2014--When journalist Bob Woodruff was hit by a roadside bomb in Iraq, it took just 37 minutes to get him from the back of a tank and into surgery, where doctors removed part of his skull to relieve the pressure as his brain swelled.
Not only did Woodruff survive, but within the next year he was able to pick up the pieces of his career as a journalist. He found that his specialty had shifted, however, from covering the battlefield to telling the story of Wounded Warriors.
From graduates, faculty
As it neared time for the processional to open the University of Delaware Commencement ceremonies, graduating students and faculty members shared their feelings about what the event means to them.
Doctoral hooding
It was a day of triumph, cheers and collective relief as more than 160 students from 21 nations participated in the University of Delaware's Doctoral Hooding Convocation held Friday morning on The Green.
Woodruff shared the highlights of his medical recovery and professional rebirth through informal remarks, personal interviews, and a keynote address at the inaugural Delaware Military Medicine Symposium at the University of Delaware on Saturday, April 26. 
Woodruff was fortunate to be treated by highly skilled military and civilian medical teams in Germany and the United States, but it was still a long road back for him. Although he woke up from a 36-day coma able to speak and walk, he was unable to recall the names of any of the 50 states or even those of his four children.
But his medical care was augmented by strong support from his family and friends, including his wife, Lee. "We don't have any scientific or medical proof of how having family and friends around you can speed up your recovery, but I know that it helped me tremendously," he said.
He also knows that many others are not so fortunate, so he and Lee started a foundation to help veterans in their struggles with not only physical injuries but also the other problems that can follow them home from the battlefield, including unemployment, depression, substance abuse, and divorce.
Breakthroughs in medicine
Woodruff credited the risks that military medical personnel can take — like the craniectomy that saved his life — with leading to breakthroughs in civilian medicine. "If there are good things to come out of war, this is one of them," he said.
However, he also pointed to a "Chinese wall" that separates the civilian and military worlds. While the care in large military polytrauma centers is usually top-notch, the same is not always true in smaller regional hospitals.  
"We need to make veterans aware that they don't have to travel two-and-a-half hours to get to a veterans' hospital," he said. "They can choose where they want to be treated."
As he recovered, Woodruff said, he found himself asking, "Why did I come back here?"
He found answers in a number of places, including the wisdom of one of his young daughters, who said to her mother, "I think Daddy loves me more now than he did before."
Woodruff also realized that he could use his position as a journalist to make a difference for others. 
"Things change in an instant, and life turns you in a direction you never thought you'd go, but it's worth it if you can make something positive out of it," he said. 
In his case, that has meant exposing the extent of the problem and prodding the government to do better for the nation's soldiers. 
"The number of injured reported by the government is much lower than the number of people being treated in military facilities," he said in an interview. "Brain injuries and post-traumatic stress may be 'hidden,' but they're very real."
He also had some advice for future health care providers about working with people who have traumatic brain injuries (TBI).
"Never assume what we can and can't understand," he said. "And never ask us, 'How are you doing?' It's better to come up to us and tell us stories."
"With TBI, you need a caregiver, but you don't really want one," he added. "You just want to be who you are. It's better to tell us about something you witnessed or the score of the game last night — just things that would be normal. We are your patients, but we don't want to be treated like patients."
He also emphasized that it's critical for medical professionals to take a balanced approach in talking with patients and family members about the future.
"You have to talk about hope without offering any guarantees," he said.
The conference, which drew about 100 attendees, featured presentations by health care professionals trained in military medicine, including speakers from Christiana Care Health System, Dover Air Force Base, the Morehouse School of Medicine in Atlanta, St. Francis Health System, and the Wilmington VA Medical Center. 
Topics included preparation for mass casualty and wartime events, polytrauma and traumatic brain injury, post-traumatic stress disorder, and family and social issues following deployment.
The symposium was sponsored by the Delaware Academy of Medicine and the Delaware Chapter of the American College of Surgeons. The educational program was followed by the Delaware Academy of Medicine's 84th Annual Meeting and Awards Ceremony.
Kathleen Matt, dean of the UD College of Health Sciences, is serving as vice president of the Academy, and she is a member of the 2014-16 board of directors.
Article by Diane Kukich
Photo by Patrick J. Hughes