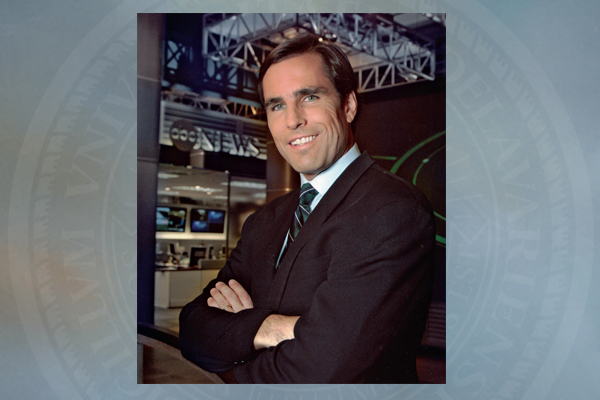 Delaware Military Medicine Symposium
Inaugural conference to feature keynote by journalist Bob Woodruff
10:31 a.m., April 7, 2014--When journalist Bob Woodruff suffered a traumatic brain injury from a roadside bomb attack in Iraq, he was fortunate to be treated by military medical teams in Germany and the United States.
"The treatment he received in the field and at the facilities in Landstuhl, Germany, and Bethesda, Md., was incredibly aggressive and would have been out of the realm of possibility in the civilian world," says Dr. Kathleen McNicholas, a cardiothoracic surgeon at Christiana Care. "But it saved his life, and the lessons learned in military medical facilities are ultimately transported to the rest of us. Medical advances are one of the few good things to come out of war."
Chronic wounds
UD's Millicent Sullivan and Kristi Kiick have received a $1.4 million grant from the National Institutes of Health for research that could provide a new approach to the treatment of chronic wounds.
Prof. Heck's legacy
The American Chemical Society is highlighting the legacy of the late Nobel laureate Richard Heck, the Willis F. Harrington Professor Emeritus of Chemistry at the University of Delaware with a digital tribute on its publications website.
Woodruff will share his story with attendees at the inaugural Delaware Military Medicine Symposium, "Applying Advances from Abroad to Care at Home," to be held on the University of Delaware campus on Saturday, April 26, from 8 a.m. to 4 p.m.
Sponsored by the Delaware Academy of Medicine and the Delaware Chapter of the American College of Surgeons, the conference will feature presentations by health care professionals trained in military medicine, including speakers from Christiana Care Health System, Dover Air Force Base, the Morehouse School of Medicine in Atlanta, St. Francis Health System, and the Wilmington VA Medical Center. 
"The symposium is designed to advance education on medicine in the military and in combat," says McNicholas, who is completing a two-year term as president of the Delaware Academy of Medicine. "Everyone benefits from the heroic care delivered to war combatants, and probably no one more than Mr. Woodruff. We're very fortunate to have him take part in this inaugural event."
The program is aimed at physicians, nurses, physician assistants, psychologists, psychiatrists, anesthesiologists, neurologists, and other subspecialists, but attendees are not required to be health care providers.
A reduced registration fee is being offered to active duty military personnel and veterans as well as to University of Delaware students.
Topics will include preparation for mass casualty and wartime events, polytrauma and traumatic brain injury, and post-traumatic stress disorder.
The educational symposium will be followed by the Delaware Academy of Medicine's 84th annual meeting and awards ceremony.  
Woodruff will make informal comments at lunch during the symposium and deliver the keynote address after dinner at the evening meeting.
For more information, visit this website or call 302-733-3952 and ask for Elizabeth Lenz.
Article by Diane Kukich