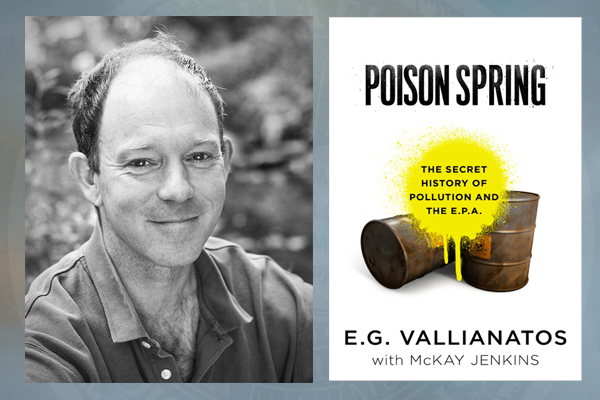 'Poison Spring'
UD's Jenkins co-authors insider's account of pollution, EPA
11:44 a.m., April 14, 2014--McKay Jenkins, Cornelius Tilghman Professor of English at the University of Delaware, is the co-author of a new book about chemical pollution, its effects on public health and the environment and the failures of government regulators.
Poison Spring: The Secret History of Pollution and the EPA, published this month by Bloomsbury Press, is the personal account of E.G. Vallianatos, whose career at the federal Environmental Protection Agency (EPA) spanned 25 years. Vallianatos has used his own eyewitness experiences at the agency, in addition to interviews with former colleagues and material from hundreds of documents, to explore what he describes in the book as the EPA's history of corruption, unscientific research and coziness with industry.
'Resilience Engineering'
The University of Delaware's Nii Attoh-Okine recently published a new book with Cambridge University Press, "Resilience Engineering: Models and Analysis."
Reviresco June run
UD ROTC cadets will run from New York City to Miami this month to raise awareness about veterans' affairs.
Jenkins, who has written numerous nonfiction books including, in 2011, What's Gotten Into Us? Staying Healthy in a Toxic World, about chemicals in everyday consumer products, was contacted by the publisher to work with Vallianatos on the new manuscript. 
"All of the research, the documentation and the weight of the argument comes from my co-author," Jenkins said of Poison Spring. "My role was to turn it into more of a narrative — to broaden the audience beyond government insiders and policy makers."
Delivering the book's message in a way that a more general audience can understand and appreciate was important, he said, particularly because, "The decisions that are made at the EPA affect the lives of every one of us, every day."
In contrast to some small-government politicians who have argued that the EPA should be abolished, Vallianatos believes that the agency and its employees need to have more resources and more autonomy, Jenkins said. 
That's the heart of this book's message, he said: "The EPA has been turned into an agency that rubber-stamps what industry wants. And you can't have a healthy population and a healthy environment when industry does what it wants. Industry does not self-regulate; it just does not."
Jenkins said he and his co-author don't argue that those running businesses are evil, just that they are driven by profits and not by concern for public or environmental health. Poison Spring details the history of several examples of cases where a lack of sufficient oversight or careful scientific study has led to unintended consequences. From dioxin and DDT in the 1970s and '80s to the collapse of honeybee colonies in recent years, the authors contend that a stronger, more independent regulatory body could do much more to head off environmental dangers. 
"His [Vallianatos'] point is that maybe the EPA should be like the Federal Reserve — appointed, bipartisan, above the political fray," Jenkins said. "He thinks the EPA's duty is a moral one, protecting health and the environment for all of us, and it should be free to do that."
April 16: Hear McKay Jenkins speak
Jenkins will speak about Poison Spring at 3:30 p.m. Wednesday, April 16, in 111 Memorial Hall. His talk, which is free and open to the public, is part of the English department's Faculty Reading and Lecture Series, which celebrates recently published books by faculty members.
Article by Ann Manser