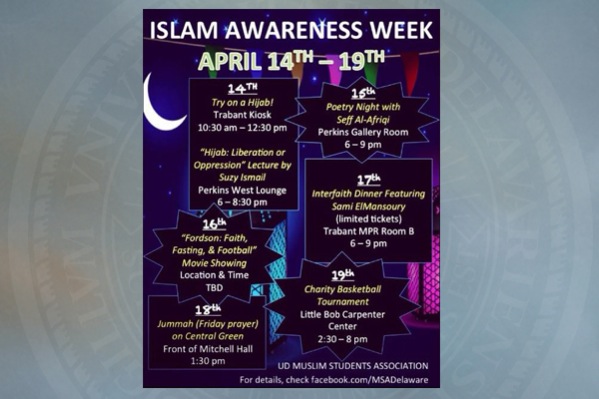 Islam Awareness Week
UD Muslim Student Association announces special events April 14-19
8:40 a.m., April 8, 2014--The University of Delaware Muslim Student Association has announced that it will mark its first Islam Awareness Week from April 14-19.
A representative of the organization said the purpose of Islam Awareness Week "is to present the genuine teachings of Islam, therefore smashing the misconceptions that have currently become wide spread in our society."
From graduates, faculty
As it neared time for the processional to open the University of Delaware Commencement ceremonies, graduating students and faculty members shared their feelings about what the event means to them.
Doctoral hooding
It was a day of triumph, cheers and collective relief as more than 160 students from 21 nations participated in the University of Delaware's Doctoral Hooding Convocation held Friday morning on The Green.
The event "offers a platform for Muslims to drive away these misconceptions, and at the same time, honor their own contributions to the community through various aspects," the representative said.
The week will offer information on the world's second largest religion, outlining its central beliefs and dispelling misconceptions, such as prayer routines and gender roles.
Activities are scheduled as follows:
Monday, April 14
Members of the campus community are invited to visit the "Hijab on You Booth" to try on one of various hijabs and headscarves from 10:30 a.m.-12:30 p.m. in a kiosk at the Trabant University Center.
A talk "Hijab: Liberation or Oppression?" by Suzy Ismail will be held from 6-8:30 p.m. in the Perkins Student Center West Lounge. Ismail specializes in presentations that address such topics as unity, youth and women, women and empowerment, and cultural and religious diversity in the workplace. She will discuss the purpose of hijab and reasons behind it, and touch on the role and rights of women in Islam and society.
Tuesday, April 15
Poetry night with Seff Al-Afriqi, an author, poet, motivational speaker, teacher and activist, from 6-9 p.m. in the Perkins Student Center Gallery Room.
Wednesday, April 16
A screening of the movie Fordson: Faith, Fasting and Football at a time and place to be announced.
Thursday, April 17
Interfaith dinner featuring keynote speaker Sami ElMansoury will be held from 6-9 p.m. in Multipurpose Room B of the Trabant University Center. ElMansoury is a political and social activist, speaker and blogger on a variety of subjects including faith, politics, and education. He will share his thoughts on the importance of working with other faiths. Tickets cost $10 for UD students, faculty and staff and are available at UD box offices and Ticketmaster. Tickets for the general public cost $15 apiece and will go on sale April 14. Tickets also will be sold to the campus community at a Trabant kiosk from 10:30 a.m. to 12:30 p.m. on April 9, 10 and 11.
Friday, April 18
Jummah (Friday Prayer) on The Green in front of Mitchell Hall. If it rains, prayer will be held in the Ewing Room of the Perkins Student Center. Members of the campus community are invited to observe the congregational prayer that Muslims hold every Friday afternoon. Khutbah (sermon) will be given by Sami ElMansoury. It will begin at 1:30 p.m. and will be followed by the prayer.
Saturday, April 19
A charity basketball tournament will be held from 2:30-8 p.m. in the Carpenter Sports Building (Little Bob). For details on the tournament, see the Facebook event.
For more on Islam Awareness Week, see the Facebook event site.