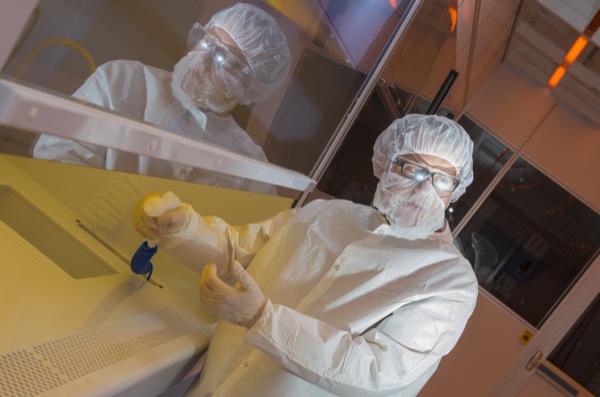 April 4: ISE Lab open house
Researchers invited to explore ISE Lab core facilities during open house
4:55 p.m., April 2, 2014--The science and engineering research community in and around the University of Delaware is invited to attend an open house at the W. M. Keck Center for Advanced Microscopy and Microanalysis and the Advanced Materials Characterization Lab on Friday, April 4, from 1-5 p.m. Light refreshments will be served.
Both facilities are part of the "core research centers" available at UD's new Interdisciplinary Science and Engineering Laboratory, or ISE Lab. The core center concept refers to collections of state-of-the-art research equipment that are accessible to many different researchers, both on and off campus, with knowledgeable research staff available to assist investigators.
Chronic wounds
UD's Millicent Sullivan and Kristi Kiick have received a $1.4 million grant from the National Institutes of Health for research that could provide a new approach to the treatment of chronic wounds.
Prof. Heck's legacy
The American Chemical Society is highlighting the legacy of the late Nobel laureate Richard Heck, the Willis F. Harrington Professor Emeritus of Chemistry at the University of Delaware with a digital tribute on its publications website.
Visitors to the open house will be able to discuss their research needs with the faculty and staff who direct the laboratories as well as meet manufacturer representatives for various analytical instruments.
The microscopy and materials characterization suites, located on the first floor of the Bob and Jane Gore research wing of the ISE Lab, are the two newest core facilities added to the University's research capabilities; several others are located around campus. A third core center for nanofabrication will be opened in the ISE Lab in 2015.
"This is an exciting time at the University of Delaware," says Gerald Poirier, manager of the materials characterization laboratory. "These new facilities house state-of-the-art, analytical research tools in an easy-access, central location and an environment that fosters interdisciplinary collaboration, not only within the UD community, but with industrial and corporate users as well. We can't wait to show people what we can do."
About the W. M. Keck Center for Advanced Microscopy and Microanalysis
This facility assists in the structural and chemical characterization of materials at scales ranging from micron to angstrom. The suite's transmission electron microscope allows researchers to create high-resolution images. The equipment is particularly sensitive to vibration, so the lab was constructed atop its own foundation, separated from the rest of ISE Lab to minimize vibrational interference.
About the Advanced Materials Characterization Laboratory
The advanced instruments in this laboratory, from X-ray diffraction to infrared spectroscopy, are used to reveal the internal structures and physical, chemical and mineralogical properties of materials ranging from soil and air particulates to quantum dots for advanced computation. The combination of capabilities offered is not currently available anywhere else in the world.
Article by Beth Chajes