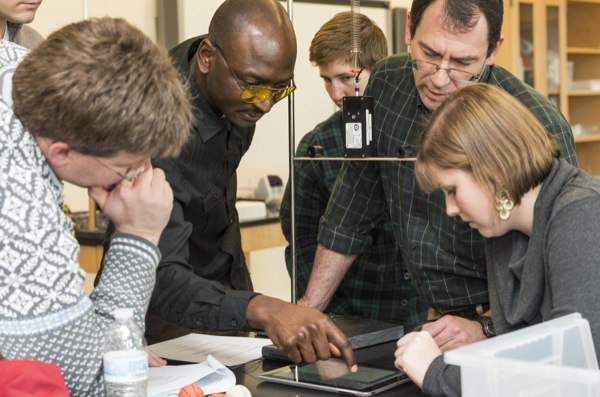 Projects, partners
ISE Lab announces speakers for lunchtime series continuing Mondays through April
9:08 a.m., April 9, 2014--The University of Delaware's Interdisciplinary Science and Engineering Laboratory (ISE Lab) will continue its free lunchtime speaker series this month, featuring a variety of community engagement activities in which UD faculty, staff and students are involved.
The final sessions of the series, "People, Projects and Partners," begins Monday, April 14, and will continue the next two Mondays from 12:30-2 p.m. in Room 110. Each session will focus on two projects, with each speaker presenting a TED-style talk, followed by a discussion period. 
From graduates, faculty
As it neared time for the processional to open the University of Delaware Commencement ceremonies, graduating students and faculty members shared their feelings about what the event means to them.
Doctoral hooding
It was a day of triumph, cheers and collective relief as more than 160 students from 21 nations participated in the University of Delaware's Doctoral Hooding Convocation held Friday morning on The Green.
The theme of this semester's series was selected to recognize the richness of community engagement activities involving faculty, staff and students, said John Jungck, professor of biological sciences and mathematics and director of the DuPont Interdisciplinary Science Learning Laboratories in ISE Lab.
To register, send an email to isll-info@udel.edu and provide your name, department and email address. Sandwiches and beverages will be available to the first 30 attendees who register. For more information on the series, contact Kimberly Doucette at 831-6400.
The speakers for the final sessions are:
April 14: Jeffrey Richardson, an adjunct professor of Black American studies and the interim director of the Master of Arts in Liberal Studies (MALS) program, will discuss the work of Imani Energy in addressing imperatives for environmental, economic and racial justice. Richardson is the president and CEO of Imani, a solar-power installation company formed in Los Angeles, which leverages solar installations to increase the participation of low-income and people of color communities in the solar, energy and energy efficiency sectors. He has over 25 years of experience in organizational management, fundraising/resource acquisition and strategy development with a focus on building effective and equitable partnerships between businesses, nonprofits, communities and government. 
Tony Middlebrooks, associate professor of organizational and community leadership in the School of Public Policy and Administration, will speak on "Leadership and Social Innovation," highlighting courses and projects that both cross disciplines and engage community organizations to help students learn leadership and innovation by doing. He is a former camp counselor and director, school-age program developer, nonprofit director, doctoral program developer, consultant, workshop facilitator, strategic planner, designer and professor of leadership, innovation and research methods. In 2012, Middlebrooks and Jules Bruck, associate professor of plant and soil sciences at UD, delivered a TEDx talk.
April 21: Jon Cox, assistant professor of art, will discuss the Dorobo Fund, a nonprofit organization fighting for the rights of indigenous peoples of Tanzania. The Dorobo Fund supports its vision for a sustainable future by a variety of means, including helping indigenous and local communities to secure rights to their land and natural resources; facilitating sustainable resource management by communities directly dependent on land resources; and promoting wilderness as an economic option for communities but also for its inherent value.
Jenni Buckley, assistant professor of mechanical engineering, will speak about two of her projects. The Perry Initiative is a nonprofit organization that conducts hands-on, daylong outreach programs for high school women to encourage them to pursue careers in underrepresented subfields of engineering and medicine. The Mechanical Engineering Student Squad is a student-faculty partnership in the Department of Mechanical Engineering with the mission to recruit, retain and advance students in mechanical engineering in the UD community.
(Note that the April 21 session was originally scheduled for March 3, when UD closed because of snow.)
April 28: Steve Peuquet, director of UD's Center for Community Research and Service and associate professor of public policy and administration, will talk about the center's partnership with the Community Legal Aid Society, a public interest law firm in Delaware focused on matched-pair testing for purposes of enforcing federal, state and local (city of Wilmington) fair housing laws to reduce discrimination. Since 2007, the two organizations have been carrying out a variety of studies to uncover discriminatory behavior in Delaware's housing industry. Research findings, which confirm that housing discrimination continues to exist in the state, are being used to take legal action against those violating the law, including a major insurance company.
Steve Dentel, professor, and Abigail Clarke-Sather, adjunct professor, both of civil and environmental engineering, will speak on "Engineers Without Borders: Partnering With Communities Around the Globe," discussing their collaborative work with the international group. Dentel works with sustainable and appropriate water and sanitation technologies for the developing world. He is team teaching with Clarke-Sather, an independent consultant who focuses on "operationalizing sustainability." Her international experience includes studying rural household energy use in China, at the Scientific Information Center for Resources and Environment of the Chinese Academy of Sciences, and wastewater treatment in Bolivia, with the International Sustainable Development Engineering Research Program.