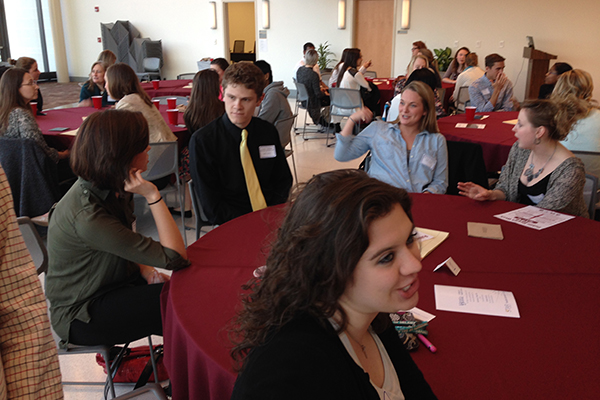 Future health leaders
Health-related student groups at University join forces
9:22 a.m., April 16, 2014--Students at the University of Delaware participated in National Public Health Week, April 7-11, with a slate of activities tied to themes provided by the American Public Health Association, including disaster preparedness, maternal health, and fitness.
But this year, the event took a new twist with a Network and Leadership Dinner on Wednesday evening that brought together some 45 students from a variety of health-related registered student organizations, fraternities, and clubs on campus.
'Resilience Engineering'
The University of Delaware's Nii Attoh-Okine recently published a new book with Cambridge University Press, "Resilience Engineering: Models and Analysis."
Reviresco June run
UD ROTC cadets will run from New York City to Miami this month to raise awareness about veterans' affairs.
The dinner was organized by Public Health Club president Samantha Seiden with support from Sarah LaFave, founder of Lori's Hands and now program coordinator in the College of Health Sciences, to facilitate sharing of resources, recruitment of volunteers, and co-hosting of future events.
It was also an opportunity to showcase the Health Sciences Complex on UD's new Science, Technology and Advanced Research (STAR) Campus as a place for undergraduates to gather, join research teams, and gain clinical experience.
To share information, the program used a "speed-dating" format that enabled all attendees to speak briefly with others, followed by small-group discussions. Participants were asked to consider such topics as successful events from the past, challenges they face now, and projects they're interested in pursuing in the future.
Nancy Chase, director of Student Wellness and Health Promotion at the University, proposed the establishment of an umbrella group with an advisory board that would include leaders from all of the related clubs. She also suggested that a website be created with links to all health-related clubs and services on campus.
"I really like the way this evening has played out," said Conor Cahalan, president of UD's Physician Assistant Club. "It would be great if we could have an event like this every semester with an organization like that to bring us together and coordinate our efforts."
Ideas flew throughout the STAR Campus atrium all evening, but one that struck a chord with many of the participants focused not just on UD but on the larger community.
"It would be great to expand our reach as organizations in health beyond the walls of the University," one student suggested. "Maybe we could all do something for the homeless people in Newark during Public Health Week next year." 
Others agreed and proposed that the new umbrella organization's advisory board take the charge in determining priorities for UD's Public Health Week 2015.
"There are some really exciting things happening in the health arena at the University of Delaware," said Seiden, "and I'm proud to have given our passionate student leaders an opportunity to share and develop their excellent ideas."
Article by Diane Kukich