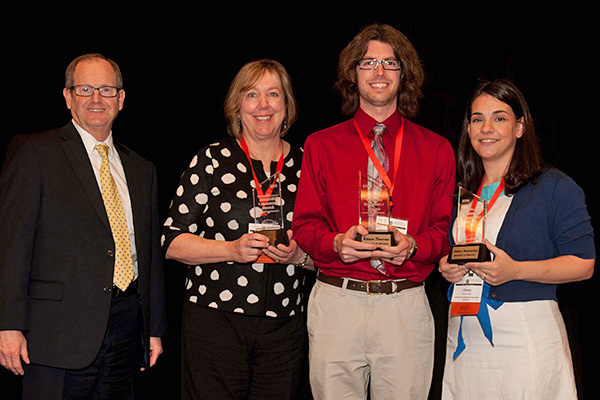 Team recognized
UD Cooperative Extension team presented award at national conference
8:56 a.m., April 10, 2014--A University of Delaware Cooperative Extension team has been honored by eXtension as a 2014 Be, Grow, Create Outstanding Institutional Team Award winner. The award was presented at the National eXtension Conference and National Extension Directors and Administrators joint meeting on March 26 in Sacramento, Calif.
The UD team includes Carrie Murphy, Phillip Sylvester, Deborah Delaney, Kathleen Splane, Nancy Gainer, Adam Thomas, Christy Mannering and Michele Walfred. 
National Medal of Science
President Barack Obama recently presented the National Medal of Science to University of Delaware alumnus Rakesh Jain.
Warren Award
Rosalind Johnson, assistant dean for student success in the NUCLEUS Program in UD's College of Arts and Sciences, was presented the John Warren Excellence in Leadership and Service Award during a May 26 ceremony.
Ask an Expert implementation was a major focus of the team's work. Jeff Hino, from Oregon State University, worked with members who personalized a marketing concept developed by Oregon State and developed a video for use in a multimedia presentation at the Delaware State Fair.
The team developed the implementation process and the timeframe for delivery. By the time they rolled out Ask an Expert at the State Fair, over 30 staff and volunteers had been trained to respond to questions, "question wranglers" were in place, and a web presence had been developed. 
All Extension staff participated in Adobe Connect training in relation to Ask an Expert prior to the State Fair. Since the rollout time period, the team has continued to enhance Ask an Expert with a question of the week feature and additional training sessions as new staff come on board. 
At this year's Delaware Extension Annual Conference, the Ask an Expert sub-committee members were selected and received the Director's Leadership award. 
Terry Meisenbach, eXtension communications and marketing leader, said, "The University of Delaware team, with the help of eXtension leadership members, was able to grasp the multitude of resources available from eXtension. Through Adobe Connect poll pods and a Qualtrics online survey, the team identified some immediate and short-term goals for eXtension implementation. They quickly met that first round of goals and the goals they're considering now focus on social media development and online course development using Moodle." 
Elbert Dickey, eXtension executive director, added, "An Outstanding Institutional Team has demonstrated the planning, creativity, and commitment to making eXtension a 'fit' for its state and institution. An Outstanding team also helps eXtension know just what its state and institution brings to eXtension."