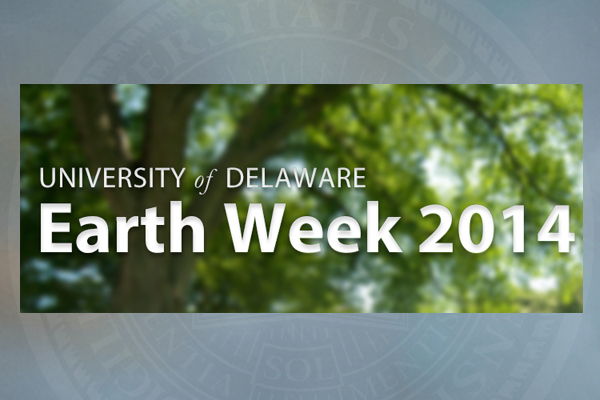 Earth Week 2014
University to host wide range of Earth Week 2014 activities
1:14 p.m., April 16, 2014--The University of Delaware's Earth Week Working Group of the Sustainability Task Force has announced the schedule of events for Earth Week 2014.
Officially, Earth Week is held Monday, April 21, through Saturday, April 26, but the wealth of events planned across the UD campus in celebration of Earth Day begins on Wednesday, April 16, with a performance by Brooklyn-based duo Climbing PoeTree.
From graduates, faculty
As it neared time for the processional to open the University of Delaware Commencement ceremonies, graduating students and faculty members shared their feelings about what the event means to them.
Doctoral hooding
It was a day of triumph, cheers and collective relief as more than 160 students from 21 nations participated in the University of Delaware's Doctoral Hooding Convocation held Friday morning on The Green.
The event is co-sponsored by the Delaware Environmental Institute (DENIN), the Center for Science, Ethics and Public Policy, the Environmental Humanities Program and the Earth Week Working Group.
On Friday night, April 18, the University community is invited to join the Down to Earth Food Co-op for a community dinner at the Newark Bike Project, 58 E. Main St. The doors will open at 6 p.m. and guests are asked to bring a labeled dish to share or to consider a donation of $5. All guests are also asked to bring their own plates, utensils and cups.
On Monday, April 21, members of the Earth Week Working Group will be at the Trabant University Center from 11 a.m.-2 p.m. to promote the week's activities, while UD Dining will present information on the importance of reusable bottles at dining locations in the Trabant University Center and Perkins Student Center.
Monday night caps off with a movie night in Kirkbride Hall, from 7-11 p.m. There will be a screening of films on sustainability issues and also the winners of the DENIN video contest.
Earth Week themed Quizzo will be offered in the Scrounge on Tuesday night, April 22, at 7 p.m.
Also that evening, faculty and staff members will speak to students in various residence halls in a series of "sustainability chats" across campus beginning at 7:30 p.m.  
On Wednesday, April 23, at 7 p.m., a panel will present a balance of views on the proposed data center to be located on the University's Science, Technology and Advanced Research (STAR) Campus at a campus "teach-in." This is a free, but ticketed event. Tickets are available on a first-come, first-served basis to current UD faculty, staff and students at the Bob Carpenter Center or Trabant University Center box offices. Full information is available at the Earth Week website.
On Thursday, April 24, the Green Expo, featuring campus, local, national and even global sustainability topics from the University community, will be held in the Trabant Food Court from noon-2 p.m.  
At 4 p.m. Thursday, the University is "dared to unplug" and invited to recharge by joining in activities on the Independence Turf.
On Friday, April 25, the Perkins Student Center will be a hub of sustainability information around mid-day. The Green Liaisons program have invited Susan Barton, assistant professor and Cooperative Extension specialist in plant and soil sciences in the College of Agriculture and Natural Resources, to discuss a project to cultivate public awareness and appreciation of sustainable landscaping at UD's Laird Campus. The lunch is open to Green Liaisons. Any member of the UD community interested in joining the Green Liaisons can contact Amy Snelling at snelling@udel.edu or Francis Karani at fkarani@udel.edu. They are co-chairs of the Green Liaisons Working Group of the Sustainability Task Force.
From 11 a.m. to 2 p.m. on Friday, visit tables in the Perkins West Lounge to learn more about programs and colleges offering degree programs that are directly related to the environment or sustainability.  Meanwhile, outside on the Perkins Front Patio, view a selection of fully electric automobiles from a variety of sources, including owners who are faculty, staff or students at UD.
Ag Day, an annual tradition of the College of Agriculture and Natural Resources (CANR) at the University of Delaware, will be held on Saturday, April 26, from 10 a.m. to 4 p.m. Visit the Ag Day website for details.
Also on Saturday, 1 p.m. to 5 p.m., Residence Life and Housing will sponsor HENStock, a campus-wide yard sale featuring performances by DJ Coordinates and other talented groups, as well as raffles and prizes.
The week wraps up with a community clean up day sponsored by Students for the Environment from noon-3:30 p.m., Sunday, April 27, at a location to be announced. Those who are interested in participating can contact Caroline Murphy of Students for the Environment.