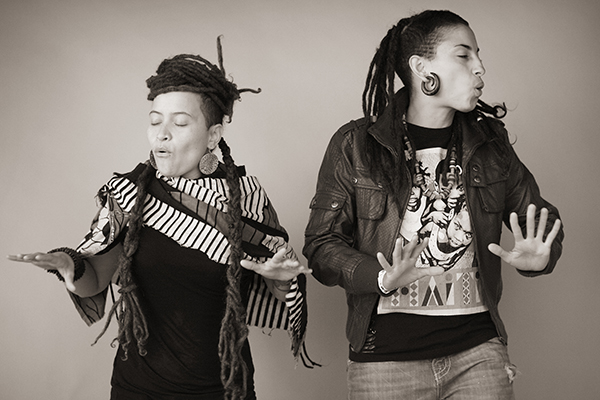 Climbing PoeTree
Earth Week festivities kick off with spoken-word performance duo
3:12 p.m., April 8, 2014--The Delaware Environmental Institute's Student Programs Committee will be kicking off the University of Delaware's Earth Week festivities on Wednesday, April 16, by hosting a performance of the Brooklyn-based duo Climbing PoeTree.
Alixa Garcia and Naima Penniman, the women of Climbing PoeTree, interweave spoken word, hip hop, and award-winning multimedia theatre to tell powerful stories of liberation, state and personal violence, social, environmental, racial and sexual justice, women's empowerment, love and human transcendence. 
From graduates, faculty
As it neared time for the processional to open the University of Delaware Commencement ceremonies, graduating students and faculty members shared their feelings about what the event means to them.
Doctoral hooding
It was a day of triumph, cheers and collective relief as more than 160 students from 21 nations participated in the University of Delaware's Doctoral Hooding Convocation held Friday morning on The Green.
Garcia and Penniman have been touring together for more than 10 years in the U.S. and abroad, performing in concert halls, conference centers, festivals, classrooms and prisons. Their stop in Delaware will take place at 7:30 p.m. in the newly renovated West Lounge of the Perkins Student Center. The event is free and open to the public.
As a prelude to the show, performances by UD's spoken-word student group SPIT (Stimulating Prose, Ideas and Theories) will be featured beginning at 7 p.m.
Climbing PoeTree will be performing segments from their acclaimed multimedia production Hurricane Season: The Hidden Messages in Water, which uses poetry, shadow art, dance, film and animation to examine the unnatural disasters facing humanity on a daily basis through the lens of Hurricane Katrina and its aftermath.
Their production has led to a collaboration with a team of educators to translate Hurricane Season into a multimedia social justice curriculum that is currently being piloted at Susquehanna University and Global Citizenship Experience, a pioneering high school in Chicago. Through the curriculum, Garcia and Penniman are attempting to harness the power of art to build the consciousness and leadership necessary for fundamental social change.
"My fellow DENIN committee member, Amy Snelling, and I first saw Climbing PoeTree perform through a webcast at a conference we attended," says Becky Bronstein, chair of the DENIN Student Programs Committee. "We both found them to be really inspiring and knew we wanted to help bring them to Delaware."
Cosponsors for the event include the College of Arts and Sciences Environmental Humanities Program, the Center for Science, Ethics and Public Policy, and the Earth Week Working Group of the UD Sustainability Task Force.
Article by Beth Chajes
Photo by Pablo Aguilar