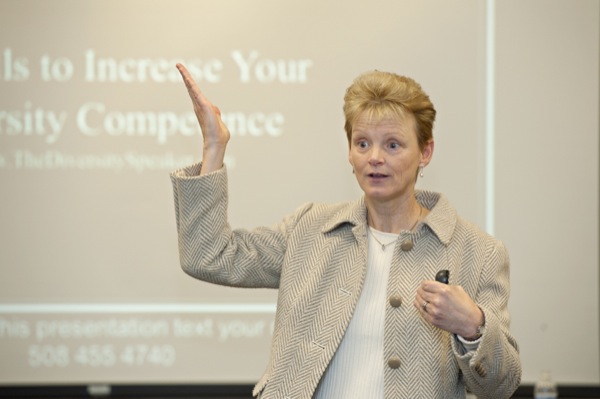 May 6: Leadership, diversity
National diversity speaker Maura Cullen returns to UD for two workshops
11:54 a.m., April 21, 2014--The University of Delaware Office of Equity and Inclusion has announced the return of nationally admired diversity expert and speaker Maura Cullen. 
Cullen will provide two workshops on Tuesday, May 6, in Multipurpose Rooms A and B of the Trabant University Center.
June 6: UDid It! Picnic
All UD faculty and staff members are invited to attend the annual UDid It! employee appreciation picnic, set from 11 a.m.-1:30 p.m., Monday, June 6, on The Green.
2FA protects you
If you are using two-factor authentication (2FA), even if a hacker has your password, your information is probably safe.
In the afternoon, from 2-4 p.m., Cullen will provide a workshop for any interested UD faculty and staff on "Playground Lessons for Leaders," which explores how the games people played in their youth – such as tag, red rover, and others – impact them well into adulthood.
Cullen notes, "A deeper look reveals that the strategies of scapegoating, cutthroat competition, exclusion, and a win-lose mentality employed to win these games are similar to the strategies we employ in the adult playgrounds of leadership and community development."
For the first time at UD, Cullen will conduct a workshop exclusively for students, as well. From 7-9 p.m., students will have the opportunity to engage with Cullen as she offers the program "Taking Adversity out of Diversity," which she presents on multiple college campuses each year, inspiring thousands of students annually. 
This honest, engaging and award-winning program will inspire students to create more inclusive communities by eliminating the fear of being judged and misunderstood. As Cullen describes, "At times we are so afraid of saying the 'wrong' thing that we make the biggest mistake of all, which is to say nothing. Our patterns of communication are vital to our success when exploring such explosive issues as race, gender, sexual orientation, class, disabilities, age and religion." 
"Not only are we excited to have Maura Cullen returning to UD, but we are so grateful for the opportunity to partner with the Division of Student Life to make it possible for her to work with our students," says OEI Director Becki Fogerty. "Students as well as faculty and staff will love spending time with her. It's amazing how she can relate to everyone."
Past workshop attendees confirm Cullen's charm. "Maura has a unique energy that is contagious. She has the ability to communicate on delicate subject matter in a lively atmosphere, engaging her audience without anyone feeling uncomfortable," notes Darlene Cartwright, who works in the University Student Centers. "I always leave feeling that I have gained valuable knowledge and insight."
Dean of Students José Riera encourages all students to take advantage of this opportunity to gain insight from a speaker who has a solid reputation of inspiring people to think about issues surrounding diversity differently from before. "Maura really helps us shape the conversation of inclusivity," he added. "I am happy we are able to partner with OEI to bring this presentation to UD. We believe this presentation has the ability to equip students to further engage across difference and strengthen community on campus."
There is no RSVP for either workshop, and seating will be available on a first-come basis. More information about Cullen can be found at her website.
Additional questions about the events on campus can be directed to oei@udel.edu. 
Photo by Evan Krape