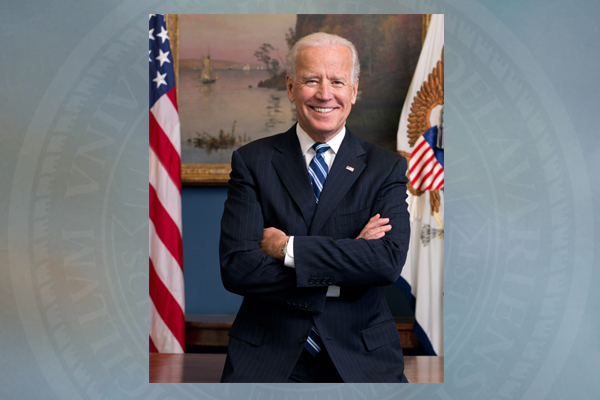 Commencement speaker
Vice President Joe Biden to deliver remarks at the University of Delaware's 165th Commencement May 31st
2:30 p.m., April 7, 2014--Vice President Joe Biden will deliver the Commencement address at the University of Delaware, his alma mater, on Saturday, May 31.
The University's 165th Commencement ceremony will begin at 9 a.m. in Delaware Stadium, rain or shine, and the event is free and open to the public. 
From graduates, faculty
As it neared time for the processional to open the University of Delaware Commencement ceremonies, graduating students and faculty members shared their feelings about what the event means to them.
Doctoral hooding
It was a day of triumph, cheers and collective relief as more than 160 students from 21 nations participated in the University of Delaware's Doctoral Hooding Convocation held Friday morning on The Green.
Tickets are not required for general seating; however, tickets will be required for the area accommodating the elderly and those with disabilities. 
Due to increased security for this event, those planning to attend should arrive as early as possible. All attendees will be required to go through airport-style magnetometers, and items, such as bags, bottles and umbrellas, will be prohibited. For specific information, visit UD's Commencement website, which will be updated as additional details become available.  
"We are honored to have Vice President Biden return to the University of Delaware to deliver this year's Commencement address," said Jeffrey Garland, vice president and University secretary. "The vice president has a remarkable record of public service—to this nation, to the state of Delaware and to this University. 
"His distinguished career showcases the power of engagement and the difference that one person can make. I know his insights will be particularly meaningful to our newest graduates as they celebrate their academic accomplishments." 
Vice President Joe Biden
Biden, who was elected Vice President of the United States in 2008 after a 36-year career in the U.S. Senate, is a 1965 UD graduate, earning a bachelor's degree with a double major in history and political science.
A frequent visitor to his alma mater, he has spoken at three previous UD Commencements: in 1978, in 1987 and in 2004, when he was presented an honorary doctor of laws degree. 
In 2011, Biden donated his Senatorial papers to the University of Delaware Library and delivered the inaugural James R. Soles Lecture on the Constitution and Citizenship.  
He was inducted into the University's Alumni Wall of Fame in 1984. 
His wife, Jill Biden, earned her bachelor's and doctoral degrees from UD. 
As a senator from Delaware, Biden established himself as a leader on some of the nation's most important domestic and international challenges. On the Senate Judiciary Committee for 17 years, he was widely recognized for his work on criminal justice issues including the landmark 1994 Crime Bill and the Violence Against Women Act. On the Senate Foreign Relations Committee, he played a pivotal role in shaping U.S. foreign policy. 
As the 47th Vice President of the United States, Biden has continued his leadership on important issues facing the nation. He was tasked with implementing the American Recovery and Reinvestment Act, helping to rebuild the economy and lay the foundation for a sustainable economic future. As part of his continued efforts to raise the living standards of middle class Americans across the country, he also has focused on issues of college affordability and American manufacturing growth.
Biden has advised the President on a multitude of international issues and 
has represented this country in every region of the world, traveling to more than two dozen countries.
Commencement Information
Details about the University's 165th Commencement are available on a special UD Commencement website. Additional media details will be released at a later date.