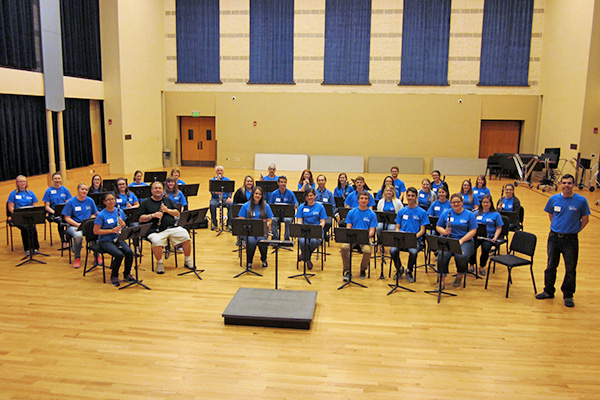 Clarinet Day
AdZel duo performs for inaugural Delaware Clarinet Day
1:18 p.m., April 21, 2014--A new tradition was launched with the inaugural Delaware Clarinet Day held Saturday, April 19, at the University of Delaware.
Twenty-five participants ranging from eighth graders to retirees joined Christopher Nichols, assistant professor of music, and the UD Clarinet Studio for this new event held in the Puglisi Orchestra Hall of the Roselle Center for the Arts.
From graduates, faculty
As it neared time for the processional to open the University of Delaware Commencement ceremonies, graduating students and faculty members shared their feelings about what the event means to them.
Doctoral hooding
It was a day of triumph, cheers and collective relief as more than 160 students from 21 nations participated in the University of Delaware's Doctoral Hooding Convocation held Friday morning on The Green.
The daylong event included performances, festival choir rehearsals, master classes and vendor exhibits for all in attendance to explore. 
AdZel, the clarinet duo of Mariam Adam and Stephanie Zelnick, served as the guest artist-clinicians.
The day opened with a recital showcasing the UD Clarinet Studio. Nichols opened this program with a performance of Paul Harvey's Etudes on Themes of Gershwin. 
Nichols was then joined by UD graduate students Rachelle Dizon and Robin Lamel to perform Franz Krommer's Variations on a Theme of Pleyel. The UD Clarinet Ensemble concluded the recital with a rousing rendition of Freddie Mercury's Bohemian Rhapsody arranged by K. Tod Kerstetter.
The first master class of the day, led by Nichols, addressed topics including efficient hand position, phrasing concepts and performance anxiety with high school students Sarah Johnson, Natalie Willis and Jenna O'Brien from Avon Grove High School in West Grove, Pa. 
After a lunch break, AdZel presented the featured artist-clinician master class with UD undergraduate and graduate students Kourtney Bastianelli, Joanna McCoskey, Samantha Romero, Dizon and Lamel. 
Over the course of the class, AdZel discussed a wide variety of topics such as phrasing, sound production and historical performance considerations. The most resounding and recurrent items of discussion were relaxed breathing, air management and breath support, which resulted in a significant improvement in tone quality from each master class participant. 
The featured artist performance by AdZel, titled The Fish Tailed Maiden, interwove music with text by Egyptian-American writer Denmo Ibrahim. Through a tapestry of intricate sounds and stories, the program highlights the similarities between Jewish-American and Arab-American girls and women. The performance incorporated spoken word, drama and percussive elements to highlight the unity of these two complex cultures. 
To conclude the program, AdZel invited Nichols to join them for an energetic rendition of Mike Curtis' Three Klezmer Trios.
In addition to the master classes and performances, attendees were able to visit exhibits by Lisa's Clarinet Shop, Backun Musical Services, composer Kevin Cope, Music and Arts, Accent Music and RJ Music Group. Participants received a T-shirt, catered lunch and entry into a drawing for prizes. The winners received prizes including mouthpieces and accessories donated by the various exhibitors and the UD Department of Music. 
Delaware Clarinet Day acknowledged Buffet Group USA, Conn Selmer, Music and Arts, Accent Music, the Department of Music and the President's Diversity Initiative for generous support of the event.
The day concluded with a performance by the Delaware Clarinet Day Festival Choir, including the following selections: Robert Schumann's Träumerei arranged by Daniel Dorff; Charles Gounod's Funeral March of a Marionette arranged by Anthony Brackett; Dmitri Shostakovich's Two Preludes arranged by William Schmidt; Henry Mancini's Baby Elephant Walk arranged by Frank Halferty; Edvard Grieg's "Sarabande" from Holberg Suite arranged by Russell Denwood; and the world premiere performance of John Lennon's Because arranged for clarinet choir by UD's McCoskey. 
The second annual Delaware Clarinet Day is scheduled for Saturday, March 14, 2015, featuring guest artist clinician Robert Dilutis, associate professor of clarinet at the University of Maryland, College Park. 
For more information, contact Nichols at crnichol@udel.edu.