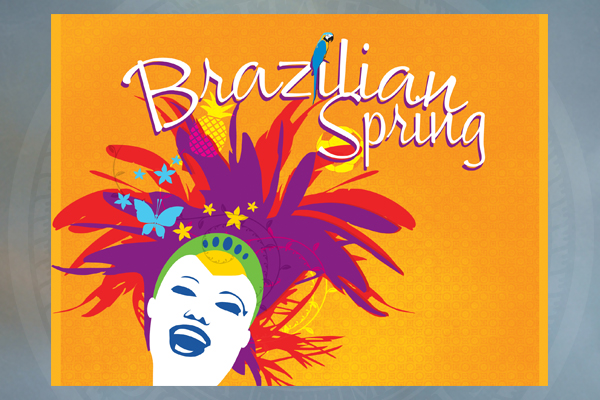 Brazilian Spring
Events throughout season will highlight Primavera Brasileira
11:41 a.m., April 15, 2014--Spring is in the air at the University of Delaware. Adding to the colorful mix is Brazilian Spring, a series of events co-sponsored by the Institute for Global Studies (IGS).
IGS invites UD students, faculty, and staff to indulge in all things lindo e maravilhoso – beautiful and marvelous -- as Brazil comes to campus this spring. 
Fulbright awards
Three University of Delaware students and an alumna have received word this spring that they will travel abroad as part of the newest class of Fulbright Student Program award winners.
Peace Corps plans
Two University of Delaware students, John McCarron and Bridgette Spritz, have been selected as Peace Corps volunteers and will serve in Ghana and Rwanda.
Brazilian Spring participants will have an opportunity to enjoy the UDairy Creamery's sorbet, "Samba de Acai," the creamery's first-ever non-dairy frozen treat. 
They also can enjoy lunchtime concerts by the UD Jazz Ensemble led by Tom Palmer at the Cultural Crossroads -- located between Recitation, Elliott and Jastak-Burgess halls and the Carpenter Sports Building -- and experience the flora and fauna of Rio de Janeiro, the Amazon and Iguacu Falls at 44 Kent Way via student artwork from the Winter Session 2014 study abroad program.
The festivities will culminate with an international symposium led by the College of Agriculture and Natural Resources (CANR) in collaboration with the Universidade Federal de Lavras on global issues and trends in agriculture, the environment and bioenergy in Brazil. 
A full schedule can be found below or at this website.
Brazilian Spring: Primavera Brasileira 2014
• Capoeira workshop, Wednesday, April 16, 5:30-7 p.m., Multipurpose Room C of the Trabant University Center. Learn about the history and moves of capoeira, an art form created and practiced by African slaves living in Brazil. It features many elements of a martial art, but also incorporates ritual, music and dance. Sponsored by the Latin American and Iberian Studies Program in conjunction with the UD Capoeira Club and the Institute for Global Studies.
• Webinar: Fulbright Opportunities in Brazil, Tuesday, April 22, 2 p.m., Elliot Hall Conference Room. Participants will examine the multitude of opportunities available to teach and conduct research in Brazil through this webinar. The presentation will discuss application processes relevant to the country program, and will highlight examples of successful projects and scholar accomplishments of recent years. The program includes four distinguished chair awards, multiple grants for postdoctoral research and over 30 grants in the STEM fields through the Fulbright-Brazil Scientific Mobility Program Core and Distinguished Chair awards.
• Waste Land film and discussion, Thursday, April 24, 5-8 p.m., 127 Memorial Hall. Join professors Eve Buckley, Mónica Domínguez Torres and Carla Guerrón Montero to watch and discuss the movie Waste Land (Brazil, 2010). Filmed over nearly three years, Waste Land follows renowned artist Vik Muniz from his home base in Brooklyn to his native Brazil and the world's largest garbage dump, Jardim Gramacho. His experiences chronicling "catadores" -- self-designated pickers of recyclable materials -- will inspire those who watch the film. Sponsored by the UD departments of Anthropology, Art History and History, and the Institute for Global Studies.
• Brazilian lunchtime concert, Fridays, April 25, May 2 and May 9, 12:30 p.m., Cultural Crossroads. Guests can enjoy the sounds of Brazil as the UD Ballroom Dance Club performs.
• OISS International Coffee Hour, Friday, May 9, 4-6 p.m., 44 Kent Way. The popular weekly coffee hour is made even more vibrant with the live performance by Brazilian musicians Minas com Bahia. Start the weekend with free coffee, tea, cookies, conversation and great music. Sponsored by the Office for International Students and Scholars and the Institute for Global Studies.
• "Brazil: Global Challenges in Agriculture, Environment, and Energy" symposium, May 21-22, Townsend Hall. An international symposium on global issues and trends in agriculture, environment and bioenergy in Brazil. Led by CANR, the symposium is the culminating effort in more than three years of U.S. Department of Agriculture-International Science and Education (USDA-ISE) program sponsored research projects, faculty and student exchanges, study abroad programs, and collaborative workshops. Co-sponsored by CANR, the College of Arts and Sciences, the Delaware Environmental Institute and the Institute for Global Studies in collaboration with the Universidade Federal de Lavras.
About the Institute for Global Studies
The Institute for Global Studies was created in 2009 to enhance the international dimensions of teaching, research and outreach at the University of Delaware. IGS provides leadership and support for programs and experiences that contribute to the education of informed, skilled, open-minded citizens of the world. 
Best known for coordinating the University's study abroad program, IGS also awards scholarships and grants to faculty and students for global travel and research, administers internationally-recognized programs such as the MEPI (Middle East Partnership Initiative) Student Leaders Institute, and sponsors such signature events as International Education Week each fall and country-specific celebrations each spring. 
IGS also partners with other global partners on campus, including the Office for International Students and Scholars, the Confucius Institute and the Center for Global and Area Studies.
Article by Elizabeth Adams