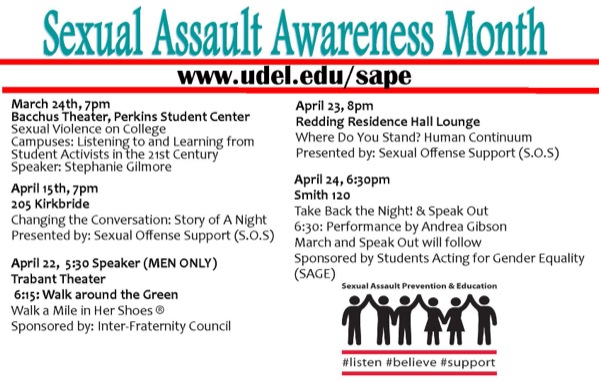 April 9: Awareness building
Event on The Green marks Sexual Assault Awareness Month
4:34 p.m., April 7, 2014--April is Sexual Assault Awareness Month, and UD's Sexual Assault Prevention and Education Committee is scheduling events to raise awareness of this issue.
Members of the campus community are invited to a special event at noon, Wednesday, April 9, on The Green outside Memorial Hall. 
June 5: Blue Hen 5K
University of Delaware graduates planning to attend Alumni Weekend are encouraged to register for the annual Blue Hen 5K walk and run, which will be held Sunday morning, June 5.
June 6-9: Food and culture series
The 20th annual June Lecture Series at the Osher Lifelong Learning Institute at UD in Wilmington will be held June 6-9. Titled 'June a la Carte,' this year's program focuses on great political documents, feminism, world politics and a Newark cuisine sampler.
Upcoming April events include:
• April 15: "Changing the Conversation: Story of a Night," presented by Sexual Offense Support (S.O.S.), 205 Kirkbride Hall, 7 p.m.;
• April 22: Walk a Mile in Her Shoes, presentation for men only in the Trabant Theatre at 5:30 p.m., and a walk around The Green at 6:16 p.m.;
• April 23: "Where Do You Stand? Human Continuum," presented by Sexual Offense Support (S.O.S.), Redding Residence Hall lounge, 8 p.m.; and
• April 24: "Take Back the Night!" with a performance by Andrea Gibson, 6:30 p.m.