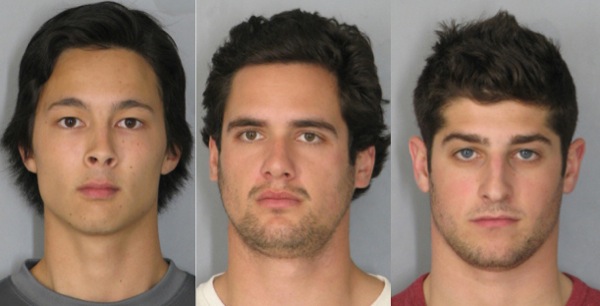 Three charged
Newark Police arrest 3 UD students for home invasion, assault
3:06 p.m., April 22, 2014--Newark Police have arrested three University of Delaware students in connection with a home invasion and assault that occurred April 19 in an apartment on Wrightstown Lane, Newark.
At approximately 2 a.m., April 19, three men entered an unlocked apartment, kicked through a locked bedroom door and assaulted another man who was in the bedroom with the female resident. All are University of Delaware students. 
The suspects assaulted the male victim with multiple kicks, punches and a candle jar. The assault ended when another female resident entered the bedroom and intervened. 
The 22-year-old male victim sustained a broken cheekbone and required five stitches above his right eye, three below the right eye and three staples on his head for lacerations. He was treated at Christiana Hospital and released. The women were not assaulted.
All victims and suspects were known to each other. Police said one of the suspects, Andrew E. Lee, and the female resident had a relationship that recently ended. 
The three defendants -- Lee, 21, of McLean, Va.; Jason B. Zimmell, 21, of Lincroft, N.J.; and Ayrton J. Doerr, 23, of Wayne, N.J. -- turned themselves in to Newark Police on April 21 and were charged with home invasion, possession of a deadly weapon during the commission of a felony, second degree assault, second degree conspiracy and criminal mischief under $1,000.
They received $46,500 secured bail, which they posted, and were subsequently released. They also received a no-contact order with the victim of the assault and the resident of the apartment.
Anyone with additional information on this incident should contact Detective Greg D'Elia at 302-366-7110 ext. 132 or greg.delia@CJ.State.de.us. Anonymous tips can be texted to 302NPD, with the message to TIP411. Information can also be provided anonymously to Crime Stoppers at 1-800-TIP-3333 or  www.tipsubmit.com, where a reward may be available.
Visit this website to receive a UD Crime Alert email whenever an article about a police investigation is posted on UDaily. 
Photos supplied by Newark Police Department