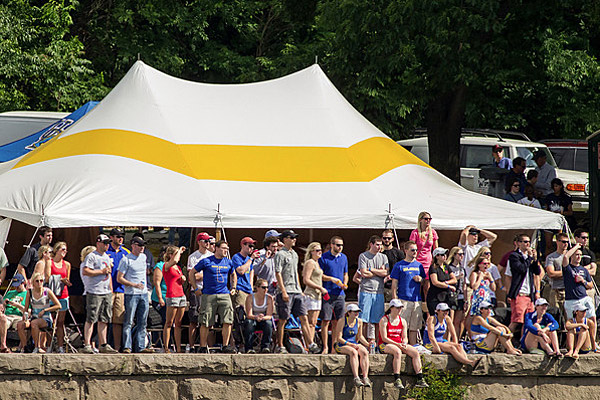 Alumni activities
Hens can enjoy Aberdeen Dad Vail Regatta at UD Alumni Tent
9:04 a.m., April 4, 2014--University of Delaware graduates are invited to enjoy the 2014 Aberdeen Dad Vail Regatta on Philadelphia's Schuylkill River from the comfort of the UD Alumni Tent.
The tent will be open beginning at 10:30 a.m., Saturday, May 10.
'Resilience Engineering'
The University of Delaware's Nii Attoh-Okine recently published a new book with Cambridge University Press, "Resilience Engineering: Models and Analysis."
Reviresco June run
UD ROTC cadets will run from New York City to Miami this month to raise awareness about veterans' affairs.
Cost is $15 per person in advance, with children younger than 12 admitted free, and $20 at the door.
All Blue Hens and their friends are invited to cheer on the UD rowing teams.
The tent is hosted by the UD Men's Crew Alumni Association and supported by the UD Alumni Association.
For details or to register, see the website.
Information on other activities is as follows:
Wednesday, April 9, 4 p.m.: President's Leadership Series. "This Is Your Brain at 135 Miles Per Hour" will be the topic of a President's Leadership Series presentation by alumna Ingrid Steffensen, an art history graduate and author, professor and race car driver.
Thursday, April 10, 5:30 p.m.: Chicago happy hour. Blue Hens in Chicago are invited to happy hour at Bub City.
Wednesday, April 16, 5:30 p.m.: Art History Graduate Student Lecture Series. Alumni are invited to a lecture by Christiane Gruber on "Prophetic Products: The Prophet Muhammad in Contemporary Iranian Visual Culture."
Thursday, April 17, 5:30 p.m.: Spring happy hour. A Blue Hen spring happy hour will be held at Stewart's Brewing Company in Bear, Del.
Thursday, April 24, 6 p.m.: Second Harvest in Lehigh Valley. A Second Harvest happy hour and food drive will be held at Boston's Restaurant and Sports Bar in Allentown, Pa.
Friday, April 25, 10:30 a.m.: Friends of UD Lacrosse golf. UD alumni, friends and family are invited to the 10th annual Friends of UD Lacrosse golf outing to be held at Deerfield in Newark. The event benefits the Blue Hens men's lacrosse program.
Friday, April 25, 1 p.m.: 'Art and Science: Connections and Intersections.' Alumni are invited to a symposium on the relationships among arts, science and technology organized by the Department of Art History and the Interdisciplinary Science and Engineering Laboratory (ISE Lab).
Friday, April 25, 5 p.m.: Alumni Baseball Series/Arizona. Blue Hens are invited to watch as the Arizona Diamondbacks host the Philadelphia Phillies at Chase Field.
Saturday, April 26, 10 a.m.: Dare to Care. The New Castle County Alumni Club encourages Blue Hens to join hands in a volunteer effort at the Food Bank of Delaware.
Tuesday, April 29, 6:30 p.m.: Boston alumni reception with Pat Harker. In a special evening sponsored by the Boston Alumni Club, UD President Patrick Harker will speak on "UD and You: Past, Present and Future."
Thursday, May 1, 6:30 p.m.: Engineers Without Borders benefit dinner. The UD Chapter of Engineers Without Borders will hold its annual benefit dinner and silent auction at the Newark Country Club.
Friday, May 2, 8:30 a.m.: Ricky B Memorial Golf. The 13th annual Ricky Barbour Memorial Golf Outing will be held at Chisel Creek Golf Club in Landenberg, Pa.
Saturday, May 3, 5:30 p.m.: Alumni Baseball Series/Miami. South Florida alumni invited fellow Blue Hens to join them for a baseball game between the Los Angeles Dodgers and the Miami Marlins at Marllins Park.
Monday, May 5, 5:30 p.m.: Alumni Baseball Series/Philadelphia. Blue Hens are invited to watch as the Toronto Blue Jays take on the Philadelphia Phillies at Citizens Bank Park.
Friday, May 9: Mechanical engineering event. UD's Department of Mechanical Engineering invites alumni to a Career Celebration and Senior Appreciation event at Clayton Hall.
June 6-8: Alumni Weekend.