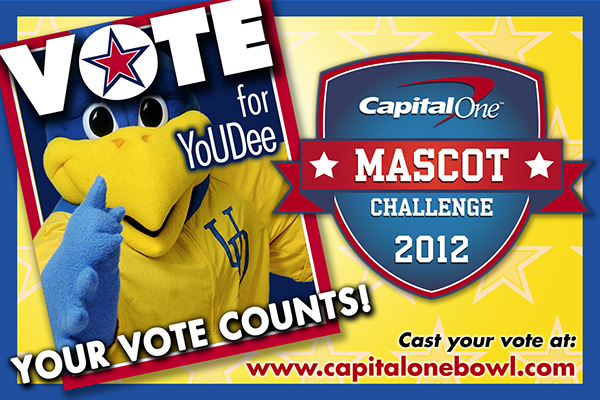 First round victory
YoUDee wins first round match in Capital One Mascot Challenge
1:48 p.m., Sept. 10, 2012--The University of Delaware's national champion mascot, YoUDee, has won its opening round match in the 2012 Capital One Mascot Challenge, defeating Raider Red of Texas Tech University in a hard-fought online battle that ended at noon, Monday, Sept. 10.
YoUDee is now in the second round of the event, matched up against Cosmo of Brigham Young University.
From graduates, faculty
As it neared time for the processional to open the University of Delaware Commencement ceremonies, graduating students and faculty members shared their feelings about what the event means to them.
Doctoral hooding
It was a day of triumph, cheers and collective relief as more than 160 students from 21 nations participated in the University of Delaware's Doctoral Hooding Convocation held Friday morning on The Green.
In addition to YoUDee, Raider Red and Cosmo, the challenge features All-America team mascots Wilma T. Wildcat of the University of Arizona, Testudo of the University of Maryland, Cam the Ram of Colorado State University, Truman the Tiger of the University of Missouri, Ms. Wuf of North Carolina State University, the Scarlet Knight of Rutgers University and Sebastian the Ibis of the University of Miami (Fla.).
Also vying for the national title are Sparty of Michigan State University, Mike the Tiger of Louisiana State University, Wolfie Jr. of the University of Nevada, Bucky Badger of the University of Wisconsin, the Duck of the University of Oregon and Cocky of the University of South Carolina.
Fans can vote at www.CapitalOneBowl.com and on Facebook as well as Twitter. All voting information appears at the Capital One Bowl website.
The top eight mascots with the best head-to-head records will then compete in a bracket-style, single-elimination competition to determine the overall winner.
"We want to thank Blue Hens everywhere for voting for YoUDee in the first round of the Capital One Mascot Challenge," said Sharon Harris of UD's Office of Communications and Marketing, director of the YoUDee program, "and we encourage UD fans around the world to continue to cast their ballots as the competition continues."
YoUDee is the defending national mascot champion, having won the top prize at the Universal Cheerleaders Association (UCA) College Cheerleading and Dance National Championships held in January at Walt Disney World in Orlando, Fla.
After being selected by Capital One, members of the YoUDee mascot team traveled to Los Angeles to participate in the preparation of promotional materials for the challenge.
The Capital One National Mascot of the Year will be announced at the Capital One Bowl on Jan. 1, 2013, and will be awarded a $20,000 scholarship to help fund its school's mascot program. Each of the 2012 Capital One All-America team members will also receive $5,000 for their university mascot program.