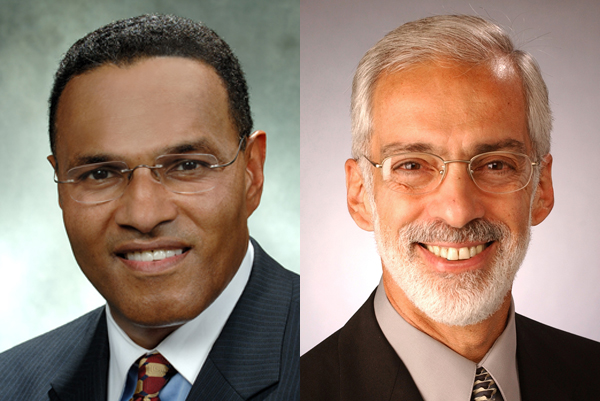 Student success
Freeman Hrabowski, Vincent Tinto to keynote conference on student success, retention
Editor's note: This article was updated at 2:30 p.m., Sept. 24, 2012.
12 p.m., Sept. 10, 2012--Diversity and student engagement will be the focus of an upcoming conference at the University of Delaware that will feature remarks by Freeman Hrabowski, president of the University of Maryland, Baltimore County (UMBC), and Vincent Tinto, a Syracuse University professor who has written extensively on student success. Registrations are still being accepted.
The Student Success and Retention Conference will be held from 9 a.m.-3 p.m., Wednesday, Oct. 3, in the Multipurpose Rooms of the Trabant University Center. Sponsored by the Academic and Student Affairs Council, the conference is open to UD faculty and staff, and advance registration is required. To register online, click here. 
From graduates, faculty
As it neared time for the processional to open the University of Delaware Commencement ceremonies, graduating students and faculty members shared their feelings about what the event means to them.
Doctoral hooding
It was a day of triumph, cheers and collective relief as more than 160 students from 21 nations participated in the University of Delaware's Doctoral Hooding Convocation held Friday morning on The Green.
Hrabowski will keynote the morning session at 9 a.m., discussing "Transformational Leadership: Creating a Climate of Success for All Students." His research and publications focus on science and math education, with special emphasis on minority participation and performance. He was recently named by President Barack Obama to chair the newly created President's Advisory Commission on Educational Excellence for African Americans.
At 12:45 p.m., Tinto will discuss "Student Success Does Not Arise by Chance."  Distinguished University Professor in Syracuse University's School of Education, Tinto has also served as chair of the Higher Education Program. He has conducted research and written extensively on higher education, particularly on student success and the impact of learning communities on student growth and attainment. 
UD President Patrick Harker will offer welcoming remarks at the conference, which also will highlight UD initiatives and programs that support the Path to Prominence in the areas of diversity and student engagement. 
For a PDF of the conference agenda, click here.
Freeman Hrabowski
President of UMBC since 1992, Hrabowski chaired the National Academies' committee that produces the recent report, Expanding Underrepresented Minority Participation: America's Science and Technology Talent at the Crossroads. 
He serves as a consultant to the National Science Foundation, the National Institutes of Health, the National Academies and universities and school systems nationally. He also serves on the boards of the Alfred P. Sloan Foundation, France-Merrick Foundation, Marguerite Casey Foundation, which he chairs, the Urban Institute, McCormick and Co. and the Baltimore Equitable Society. He previously served on the board of the Carnegie Foundation for the Advancement of Teaching and formerly chaired board of the Maryland Humanities Council. 
Vincent Tinto
Tinto has consulted widely with federal and state agencies, with independent research firms, foundations and with two- and four-year institutions of higher education on a broad range of higher educational issues. He chaired the national panel responsible for awarding $5 million to establish the first national center for research on teaching and learning in higher education and served as associate director of the $6 million National Center on Postsecondary Teaching, Learning and Assessment funded by the U.S. Office of Education.