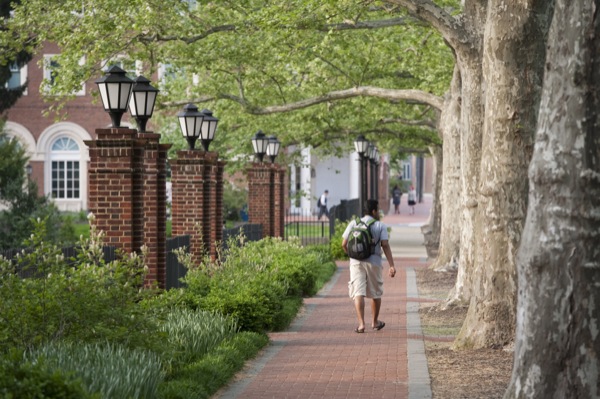 A 'best college to work for'
Employee survey puts UD fourth in the nation as a top place to work
3:06 p.m., Sept. 28, 2012--The University of Delaware has been ranked fourth in the nation in a listing of the top 10 colleges to work for, according to an article in Forbes magazine. 
With a No. 4 ranking, UD was rated ahead of Carnegie Mellon, Texas A & M, the Massachusetts Institute of Technology, the University of South Florida, the University of California, Berkeley and the University of Utah.
From graduates, faculty
As it neared time for the processional to open the University of Delaware Commencement ceremonies, graduating students and faculty members shared their feelings about what the event means to them.
Doctoral hooding
It was a day of triumph, cheers and collective relief as more than 160 students from 21 nations participated in the University of Delaware's Doctoral Hooding Convocation held Friday morning on The Green.
Heading the list in first place was Brigham Young University, followed by the California Institute of Technology and the University of Illinois at Urbana-Champaign.
"The University of Delaware is honored to be listed with other prestigious universities," said Jennifer (J.J.) Davis, vice president for finance and administration. "We work hard to recruit the best people to our campus and provide programs, benefits and policies that make UD a place where they want to stay. We want to be the best in what matters most to our employees." 
The Forbes article on "The 10 Best Colleges to Work For" is based on a ranking by Glassdoor.com, a free jobs and career community that offers an inside look at jobs and companies. The Glassdoor ranking of 50 of America's largest universities is based on how their employees feel about the pros and cons of working at their particular institutions. 
For the evaluation, colleges and universities submitted a minimum of 20 reviews by employees between Sept 10, 2011, and Sept 9, 2012. The University of Delaware earned a 4.1 rating on a scale ranging from 1 (very dissatisfied), to 5 (very satisfied).
Last month, The Chronicle of Higher Education's 2012 Great Colleges to Work For program ranked UD among the top 103 colleges in its fifth annual survey of faculty and staff conducted by the journal.