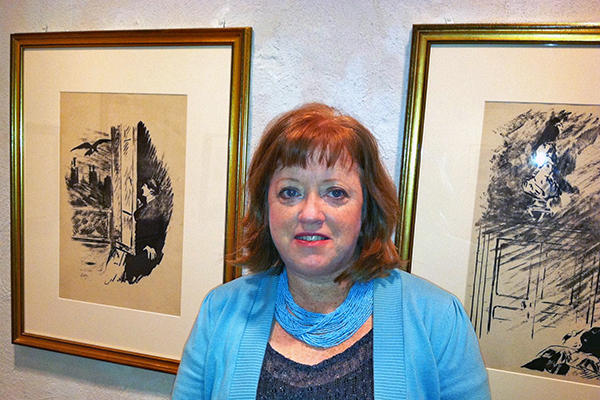 Saturday Symposium
UD alumni, friends enjoy day at museum studying Poe illustrations
12:02 p.m., Sept. 24, 2012--A Saturday Symposium on illustrations inspired by Edgar Allen Poe drew more than 100 alumni and friends of the University of Delaware, with organizers and University faculty attributing its successful turnout to alumni support and institutional partnerships.
The event, held at the Brandywine River Museum in Chadds Ford, Pa., invited guests to view the ongoing exhibition, Picturing Poe:  Illustrations for Edgar Allan Poe's Stories and Poems, and attend talks featuring UD faculty.
'Resilience Engineering'
The University of Delaware's Nii Attoh-Okine recently published a new book with Cambridge University Press, "Resilience Engineering: Models and Analysis."
Reviresco June run
UD ROTC cadets will run from New York City to Miami this month to raise awareness about veterans' affairs.
"We had 109 people spend possibly the most beautiful Saturday this fall indoors," said Matt Kinservik, professor and associate dean for the humanities for the College of Arts and Sciences. "We're reconnecting alumni with the University, and we're doing it through cultural programming and partnerships with area institutions."
Carol Nigro, art history alumna and co-chair of the Friends of Art History group that organized the Sept. 15 event, called the symposium especially significant for illuminating the importance of the humanities. 
"We recognize that the University can and should be an intellectual and cultural nexus," she said. "Our goal is to help showcase the work of UD art historians to the broader community and take advantage of our incredible alumni."
The Picturing Poe exhibit, Nigro added, was a "perfect opportunity" to do just that. 
The symposium began in the morning when Audrey Lewis, the curator of Picturing Poe and an alumna of UD's Department of Art History, gave an introductory talk about the exhibition that features works by an international cast of artists who span multiple genres of art, including Édouard Manet, Paul Gauguin, Aubrey Beardsley, and Robert Motherwell.
"We want to do more events like this, where the talks are sophisticated yet designed for a general audience," said Lewis, who stressed the value of partnering with the University. 
Lewis was particularly excited about the opportunity to have UD scholars interpret aspects of Poe's work that resonated among visual artists. 
Following lunch and a tour of the exhibition, Wendy Bellion, associate professor of art history, discussed "The Gothic Imagination in American Art;" Edward Larkin, associate professor of English, considered "Poe's Visual Imagination;" and Nina Athanassoglou-Kallmyer, professor and chair of the Department of Art History, spoke about "Manet and the Poetic Raven."
"The symposium was a fantastic event that had many levels of interest," said Kallmyer. "It allowed us to highlight the faculty and the work we're doing to people outside the usual academic parameters."
The Cloisters
The Friends of Art History is also sponsoring a private tour of the Cloisters and a luncheon in New York City on Saturday, Sept. 29. This event is sold out.
Article by Artika Rangan Casini