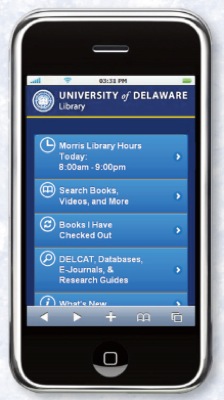 Mobile access
University Library offers mobile-friendly home page
10:28 a.m., Sept. 7, 2012--The University of Delaware Library has a mobile-friendly version of the library home page that focuses on the information and services that are most frequently accessed by users and appropriate to a mobile device.
The design for mobile devices does not include everything available on the current library web page given the space constraints of mobile devices.
June 6: UDid It! Picnic
All UD faculty and staff members are invited to attend the annual UDid It! employee appreciation picnic, set from 11 a.m.-1:30 p.m., Monday, June 6, on The Green.
2FA protects you
If you are using two-factor authentication (2FA), even if a hacker has your password, your information is probably safe.
"With projected heavy student use, the University of Delaware Library is pleased to provide this service," stated Susan Brynteson, vice provost and May Morris University Librarian.
The development of the mobile-friendly version of the library web page is an ongoing process.
The mobile-friendly web page is directly accessible at http://www.lib.udel.edu/m/.
Users accessing the library home page from a mobile device will be directed automatically to the mobile-friendly version.