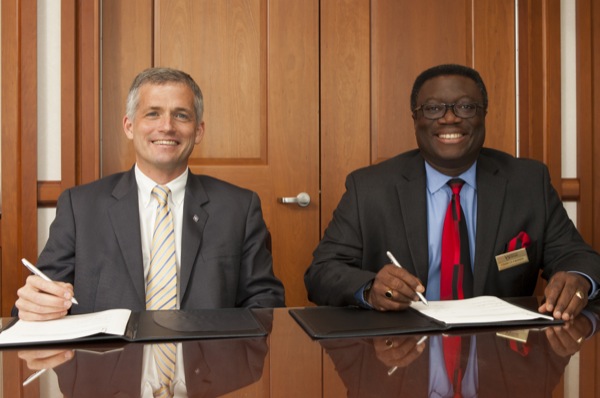 Hospitality management merger
UD, Delaware Tech hospitality management programs sign agreement
8:59 a.m., Sept. 21, 2012--The University of Delaware's Department of Hotel, Restaurant and Institutional Management and Delaware Technical Community College's Hospitality Management Program have reached an articulation agreement that will allow students who earn an associate degree from Delaware Tech to complete their bachelor's degree in the HRIM major in UD's Alfred Lerner College of Business and Economics in two years with careful planning.
Rick Andrews, deputy dean in the Lerner College; Francis Kwansa, interim chair of HRIM at UD; Nancy Brickhouse, interim provost at UD; Orlando J. George, Jr., president of Delaware Tech; Celeste Mozeik, instructional coordinator in the Business Department at Delaware Tech's Stanton/Wilmington campus; and Lauretta Cooper, articulation coordinator at Delaware Tech, signed the agreement.
From graduates, faculty
As it neared time for the processional to open the University of Delaware Commencement ceremonies, graduating students and faculty members shared their feelings about what the event means to them.
Doctoral hooding
It was a day of triumph, cheers and collective relief as more than 160 students from 21 nations participated in the University of Delaware's Doctoral Hooding Convocation held Friday morning on The Green.
"Connecting Delaware Tech's associate degree in hospitality management with UD's bachelor's degree in HRIM makes good business sense for both institutions," said Andrews. "Most importantly, it is a great opportunity for students interested in the hospitality industry. 
"We look forward to welcoming Delaware Tech graduates into our classrooms and into our applied learning laboratories, the Vita Nova restaurant and Marriott's Courtyard Newark-University of Delaware hotel."
According to Francis Kwansa, interim chair of HRIM, the agreement also helps avoid the duplication of curricula between the two programs through cooperative educational planning.
The agreement, which runs for a five-year period from 2012 through 2017, was created in an effort to expand educational opportunities and provide a smooth transition for students wishing to earn an associate degree and a bachelor's degree.
Graduates of the Delaware Tech program who have completed the associate degree with a cumulative grade point average of 2.8 or higher will automatically be accepted into the HRIM major at UD.
Students intending to transfer may complete the admissions application for UD following the third semester of the associate degree program or upon completion of 48 credits.
The full articulation agreement is available online.
Photo by Ambre Alexander