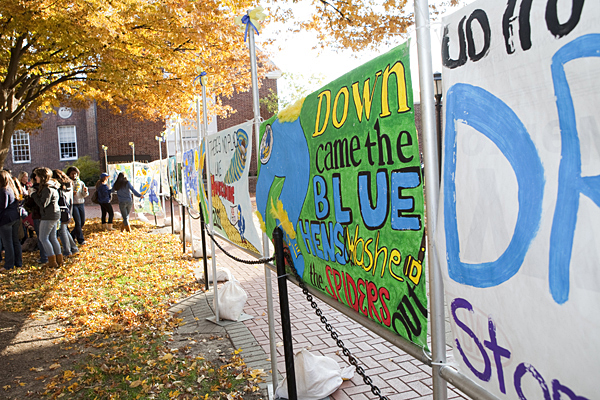 Homecoming spirit
UD's Homecoming 2012 to feature banner, spirit competition
3:08 p.m., Sept. 11, 2012--University of Delaware students are invited to show off their Blue Hen spirit during Homecoming 2012 by entering the banner and spirit competition.
Any registered student organization (RSO), Greek Life chapter, athletics team or group of UD friends are eligible to create a banner and/or a cheer to get the crowd excited during the Homecoming Spirit Celebration to be held at 3 p.m., Friday, Oct. 19, on The Green.
From graduates, faculty
As it neared time for the processional to open the University of Delaware Commencement ceremonies, graduating students and faculty members shared their feelings about what the event means to them.
Doctoral hooding
It was a day of triumph, cheers and collective relief as more than 160 students from 21 nations participated in the University of Delaware's Doctoral Hooding Convocation held Friday morning on The Green.
Three prizes will be awarded -- overall best for best banner and cheer, best banner and best cheer. 
Students must use the banners supplied by Alumni Relations, which can be picked up at the George Evans House, located next to the Trabant University Center at Main Street and South College Avenue, during regular business hours (8:30 a.m.-4:30 p.m., Monday through Friday).
All banners are due back to Alumni Relations by 4 p.m., Tuesday, Oct. 9. They will be on display in the Trabant University Center throughout Homecoming Week. 
Any music that a group plans to use is due to the Office of Alumni Relations by Monday, Oct. 15, at 4 p.m. It is not mandatory to use music or do a cheer during a banner showing.
Click here for a full list of competition rules.
About the Office of Alumni Relations
The Office of Alumni Relations is the chief liaison between the University and the worldwide alumni body of more than 151,000 living alumni represented by the UD Alumni Association. Alumni Relations coordinates major events such as Alumni Weekend, Homecoming and prestigious awards.
The office also manages all volunteers and events for the regional alumni clubs across the country and is charged with creating new and exciting programs while maintaining current traditions.
For more information, visit www.UDconnection.com.
Photo by Ambre Alexander