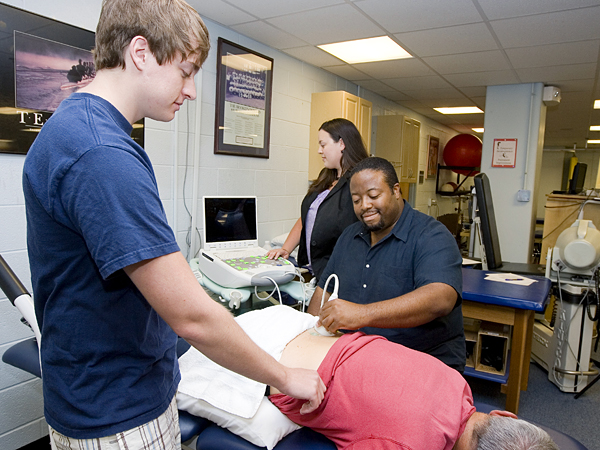 Back it up
Research will focus on developing rehab approach for older adults with chronic low back pain
4:06 p.m., Sept. 6, 2012--All low back pain is not created equal, and Gregory Hicks would like to find a way to better individualize care and improve clinical outcomes for older adults suffering from this debilitating condition.
Hicks, associate professor in the University of Delaware's Department of Physical Therapy, has been awarded a five-year, $2.35-million grant from the National Institutes of Health to develop a comprehensive, standardized rehabilitation approach that is specifically designed to reduce pain and optimize function.
Chronic wounds
UD's Millicent Sullivan and Kristi Kiick have received a $1.4 million grant from the National Institutes of Health for research that could provide a new approach to the treatment of chronic wounds.
Prof. Heck's legacy
The American Chemical Society is highlighting the legacy of the late Nobel laureate Richard Heck, the Willis F. Harrington Professor Emeritus of Chemistry at the University of Delaware with a digital tribute on its publications website.
According to Hicks, low back pain is the most frequently reported musculoskeletal problem among older adults. 
"In this age group, from 60 to 85 years, low back pain has been associated with a host of negative consequences, including increases in mobility limitations, disability, and the use of healthcare resources," he says. "Although it's a risk factor for functional decline in the elderly, the majority of research studies addressing this condition exclude people over the age of 60, so clinicians have minimal evidence upon which to base their treatment decisions."
Hicks and his research team will carry out a study of 250 people in this age group with a new or recent onset of low back pain to determine whether the presence or absence of certain risk factors can predict the development of chronic low back pain (LBP) and greater LBP-related disability among older adults, including declines in physical function and societal participation. 
"We hope to lay the groundwork for developing a therapeutic algorithm for evaluation and treatment of LBP, specifically for older adults, to focus on prevention of chronic LBP and development of functional limitations and disability associated with LBP," Hicks says.
Article by Diane Kukich
Photo by Kathy F. Atkinson