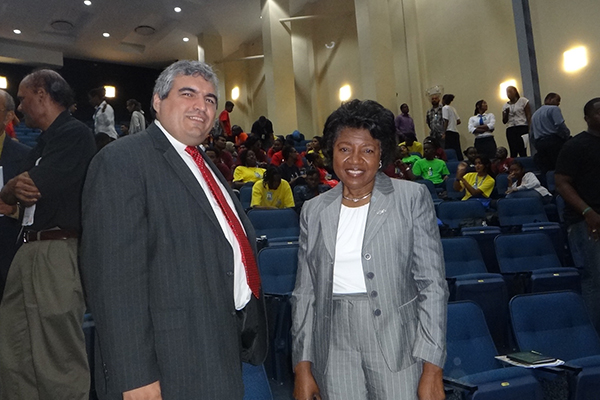 For the Record, Sept. 14, 2012
UD faculty members report recent presentations, publications
1:13 p.m., Sept. 14, 2012--For the Record provides information about recent professional activities of University of Delaware faculty, staff, students and alumni.
Recent awards, presentations and publications include the following:
From graduates, faculty
As it neared time for the processional to open the University of Delaware Commencement ceremonies, graduating students and faculty members shared their feelings about what the event means to them.
Doctoral hooding
It was a day of triumph, cheers and collective relief as more than 160 students from 21 nations participated in the University of Delaware's Doctoral Hooding Convocation held Friday morning on The Green.
Awards
Deborah Ryszka, associate librarian in the Metadata Services Department, University of Delaware Library, was presented with the Presidential Citation of the Association for Library Collections and Technical Services (ALCTS) at the 2012 annual conference of the American Library Association (ALA) in Anaheim, Calif., on Sunday, June 24. ALCTS President Betsy Simpson of the University of Florida Library presented the award. The Presidential Citation acknowledged Ryszka's outstanding service as chair of the ALCTS Membership Committee and organizer of the ALCTS 101event held at annual conferences. The award noted that Ryszka's "excellent organizational skills and creative flair have greatly impacted the committee's success in new member outreach and development" and that her "extraordinary efforts and positive spirit have fostered a sense of collegiality among division members." The Presidential Citation honors ALCTS members who make significant contributions to the association and to the profession but whose accomplishments do not fall with the criteria for ALCTS' other awards. The Presidential Citation is intended to recognize distinguished achievement by a member or members.
Presentations
Sponsored by a grant from the U.S. State Department Speaker and Specialist Program, Patricia A. DeLeon, Trustees Distinguished Professor of Biological Sciences, made presentations that included the keynote address at opening ceremony at the 2012 Caribbean Youth Science Forum (CYSF) held at the University of the West Indies (UWI), St. Augustine campus, Trinidad and Tobago, from Aug. 5-12. The CYSF is a major annual regional event of the National Institute of Higher Education Research Science and Technology (NIHERST) that brings together over 200 sixth form science students from seven Caribbean countries. DeLeon gave a public lecture on "The Human Genome Project and Its Impact" and participated in a Science Hard Talk plenary session entitled "Unraveling the Secrets of the Human Genome." She also participated in Socializing with Scientists, in which participants met one-on-one and chatted with prominent scientists and engineers in academia, government and industry. 
John Patrick Montaño, professor of history, coordinator of European Studies and head of Irish Studies, delivered the plenary address, "Humiliation, Destruction, and Death: Violence and Cultural Difference in Tudor and Stuart Ireland," at the Tudor and Stuart Ireland Conference at University College Dublin, Aug. 31.
David Pong, professor of history and Asian Studies, was a panelist, "Developing General Education in Hong Kong Universities, 2008-12," Capstone Conference for the Fulbright Hong Kong General Education Program, organized by the Hong Kong American Center, June 11, City University of Hong Kong. Also, he presented the paper "Teaching China's Civilization in a Chinese (Hong Kong) Environment: What to Teach and How to Teach It" at the General Education and University Curriculum Reform: An International Conference in Hong Kong, as part of the Session on "Designing and Teaching about One's Native Culture and History in a General Education Curriculum," June 12-14, Hong Kong. Pong also organized the session and drew up the proposal
Tsu-Wei Chou, Pierre S. du Pont Chair of Engineering, recently delivered three invited plenary lectures on his research team's work on carbon nanotube-based continuous fibers at the following international conferences: 2012 International Symposium on Materials for Enabling Nanodevices, UCLA, Los Angeles, Aug. 27-29; 2nd International Conference on Advanced Polymer Matrix Composites, Harbin Institute of Technology, Harbin, China, July 22-25; International Conference on Mechanics of Nano, Micro and Macro Composite Structures, Politecnico di Torino, Torino, Italy, June 18-20. The Chou group's recent experimental characterization and analysis/modeling research has gained significant fundamental understanding of the electromechanical behavior of this novel nanomaterial for multifunctional composite applications.
Publications
Chandra L. Reedy, professor in the School for Public Policy and Administration and Asian Studies, "Image Analysis-Aided Light Microscopy of Glazed Ceramics: Identifying Technological Innovation and Style," in Studies in Conservation, Vol. 57, No. S1, pp. 227-233 (2012).
To submit information to be included in For the Record, write to ud-ocm@udel.edu.