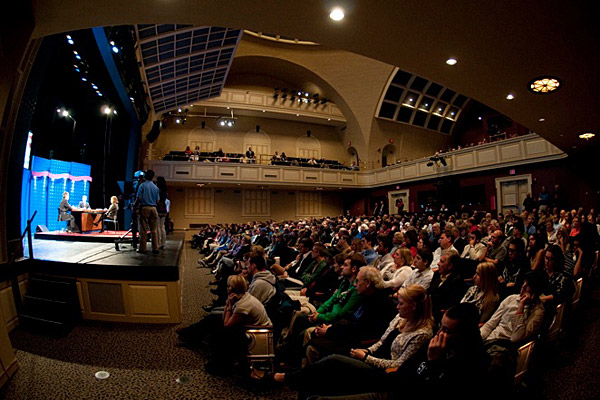 Debates tickets available Tuesday
Tickets hit the box offices for Delaware Debates 2012
3:15 p.m., Sept. 24, 2012--Tickets for Delaware Debates 2012, featuring candidates for the U.S. House and Senate and governor and lieutenant governor, will be available to the University of Delaware campus community and general public beginning Tuesday, Sept. 25.
On Tuesday, Oct. 16, at 7 p.m., the event will feature consecutive debates among candidates for U.S. House of Representatives and the U.S. Senate. 
From graduates, faculty
As it neared time for the processional to open the University of Delaware Commencement ceremonies, graduating students and faculty members shared their feelings about what the event means to them.
Doctoral hooding
It was a day of triumph, cheers and collective relief as more than 160 students from 21 nations participated in the University of Delaware's Doctoral Hooding Convocation held Friday morning on The Green.
On Wednesday, Oct. 17, at 7 p.m., candidates vying for lieutenant governor will first debate, followed by the gubernatorial candidates. 
Beginning at 10 a.m. Tuesday, Sept. 25, tickets for each evening of debates will be available on a first-come, first-served basis. All tickets are free and available to all.
Tickets will be available at the following locations:
Bob Carpenter Center Box Office, 631 South College Avenue, Newark
Trabant Box Office, Trabant University Center
WDDE, 1200 North DuPont Highway, Dover
UD's Hugh R. Sharp Campus, 700 Pilottown Road, 204 Cannon Lab, Lewes
Both evenings of debates will begin at 7 p.m. in Mitchell Hall on the University's Newark campus. Doors will open at 6 p.m., and everyone must be seated by 6:30 p.m. Details about parking and directions are available on the Delaware Debates 2012 website.
For everyone attending the debates, no campaign materials, literature, hats, stickers, signs or banners will be allowed inside Mitchell Hall.
Following debate rules accepted by participating candidates, the audience will be prohibited from applauding or making noise during the debate and may not do anything visible or audible to express support or opposition to any candidate during the debate. Violations will prompt immediate removal of audience members from the debate venue.
Delaware Debates 2012 will be streamed live from Mitchell Hall, and video and audio feeds are being made available to all media.
About Delaware Debates 2012
Delaware Debates 2012 is co-hosted by the University of Delaware Center for Political Communication and Delaware First Media, and supported by AARP Delaware and American Cancer Society Cancer Action Network.
All students are welcome and encouraged to witness the debates. Delaware Debates 2012 is part of the National Agenda course at the University, and seats have been reserved for students in the class, as well as for the candidates and debate sponsors.
For more information about Delaware Debates, including moderators, rules and media credentials, visit www.delawaredebates.org.