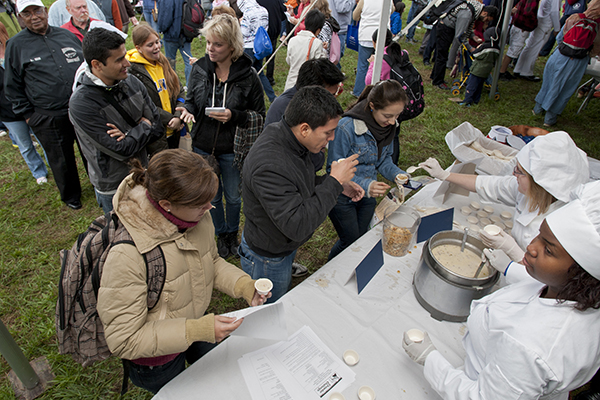 Coast Day seafood
Check out the seafood specialties at UD's Coast Day on Oct. 7
10:38 a.m., Sept. 17, 2012--Savor the flavors of the sea at the University of Delaware's Coast Day on Sunday, Oct. 7, from 11 a.m. to 5 p.m., at the Hugh R. Sharp Campus in Lewes, Del., where cooking demonstrations, crab cake and chowder competitions and regional eateries will showcase delicious seafood.
The popular Coast Day Crab Cake Cook-Off begins at 11 a.m., with contenders preparing their own special recipes in hopes of earning the title of "Delaware's Best Crab Cakes." Among this year's contenders are a smoked Tex-Mex crab cake, a pan-seared crab cake with risotto and a crab cake topped with a pat of butter seasoned with Old Bay, parsley and lemon.
From graduates, faculty
As it neared time for the processional to open the University of Delaware Commencement ceremonies, graduating students and faculty members shared their feelings about what the event means to them.
Doctoral hooding
It was a day of triumph, cheers and collective relief as more than 160 students from 21 nations participated in the University of Delaware's Doctoral Hooding Convocation held Friday morning on The Green.
A panel of judges will determine the winner, based on taste, originality, balance of crab meat and texture. The judges are last year's champion, Carl Zampini; Cook-Off trivia contest winner Lori Maramante; and Chesapeake Bay Crabs cookbook author Judy Colbert. Judging starts at noon with the award presentation following at 1 p.m.
At a nearby tent in the Food Festival area, the Seafood Chowder Challenge features a friendly competition between the ACF First State Chefs Association and the Delmarva Chefs and Cooks Association. Coast Day attendees can taste different chowders and vote for their favorite. Clams, donated by Seawatch International Inc., in Milford, Del., will be the featured ingredient, and the award presentation will be held at 3 p.m. at the bandstand.
Throughout the day, cooking demonstrations will provide inspiration for at-home chefs. Starting at noon, John Sapienza of SJ Foods LLC will show how to prepare pan-seared rockfish and crab marsala. Pillsbury 45th Bake-Off finalist Susann Studz will share how to make sushi-style crescent crab rolls at 1:30 p.m. At 3 p.m. Sally Reiss and Karen Sommers of the University of Delaware Cooperative Extension Master Food Educators will spice up seafood with fish tacos.
"A lot of people tend to stick to their old standbys, like grilled salmon, when cooking seafood at home," said Doris Hicks, seafood specialist with Delaware Sea Grant. "But Coast Day can expose visitors to creative takes on seafood appealing to a broad range of tastes."
If watching people cook makes you hungry, a large variety of seafood will be available for purchase, including crab cakes, seafood soups and chowders and crab cake and soft-shell crab sandwiches. Non-seafood items will also be available.
Coast Day visitors should note that there is no ATM on campus grounds.
Coast Day is presented by UD's College of Earth, Ocean, and Environment and Delaware Sea Grant.
This year's theme, "Checking in on Our Coast," will highlight how UD scientists, staff and students are improving understanding of ocean environments and serving coastal communities. In addition to sampling seafood, Coast Day attendees can interact with researchers, tour ships, try hands-on activities and attend presentations on a range of topics.
Coast Day is sponsored by DuPont Clear into the Future, Overseas Shipholding Group, Inc., UTEC Survey Inc., WMDT—CW-3, Delaware Department of Natural Resources and Environmental Control and the National Oceanic and Atmospheric Administration.
The event is rain or shine, with free admission and parking. Tweet along with the hashtag #DECoastDay on Twitter.
Note to the UD community: Free bus transportation to Lewes from Newark will be available for UD students and employees. Learn more.
Article by Teresa Messmore
Photo by Evan Krape