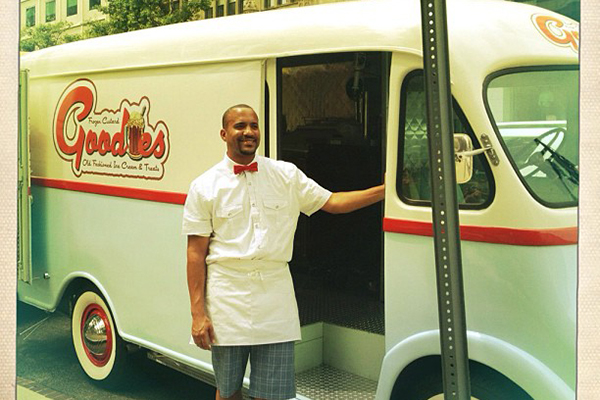 Bundle of goodies
Lerner College alumnus opens vintage mobile eatery
2:02 p.m., Sept. 24, 2012--The University of Delaware's Alfred Lerner College of Business and Economics has long provided students with an opportunity to gain practical experience in topic areas like accounting, marketing and finance. Add to that the college's unique angle of incorporating methods in evidence-based analytics and experiential learning, and Lerner graduates go on to do a vast array of things. For Brandon Byrd, who received a master of business administration degree in 2008, a concentration in marketing led him to use his skills to open a gourmet frozen custard eatery.
Byrd was first introduced to the frozen dessert after spending some years in America's custard belt, at the University of Wisconsin Eau Claire. One taste and he knew the business he wanted to get into.
'Resilience Engineering'
The University of Delaware's Nii Attoh-Okine recently published a new book with Cambridge University Press, "Resilience Engineering: Models and Analysis."
Reviresco June run
UD ROTC cadets will run from New York City to Miami this month to raise awareness about veterans' affairs.
Goodies Frozen Custard, the mother-approved custard shop, was Byrd's solution for bringing the Midwest to the East Coast.
"I wanted to have the best custard and make it as authentic as possible," said Byrd. "This is how I wanted to build my legacy."
Establishing a distinctive business like Goodies requires a unique entrepreneurial skill set, which Byrd said came naturally to him, but he also noted the MBA program at the Lerner College helped him master skills in accounting and marketing to incorporate into his business.
"You can't teach entrepreneurship and ingenuity -- either you have it or you don't," said Byrd. "Getting my degree helped sharpen those skills."
It took Byrd about one year to officially launch and open Goodies.
Byrd used creativity to define his business by restoring "Gigi," a 1952 Metro van. According to Byrd, Gigi's vintage style is a reflection of the company's name and what it represents.
"Goodies takes you down memory lane," said Byrd. "It represents a time where honor and integrity were common and a handshake was as good as any contract."
Nostalgia is a difficult trait to commit to, said Byrd, but he wanted to keep his business time-period appropriate while maintaining a dedication to excellence in products and customer service.
Gigi can often be found riding through the streets of Washington, D.C., playing music by Chuck Berry, Elvis Presley and Chubby Checker.
Byrd commented, "Everything is about a relationship and it has to feel good. If it doesn't feel right it's not worth investing in. I accomplished a lot and my MBA taught me how to build a business from the ground up. You have to have a good, firm understanding of the basics."
The vintage mobile eatery is just the beginning for Byrd.
"You might pay for a two-scoop sundae from me but you are getting three," said Byrd. "I get paid to make frozen custard. I give customers at least 10 free sundaes a day. Goodwill goes a long way. You give and you'll always get it back."
Article by Rachel Howard