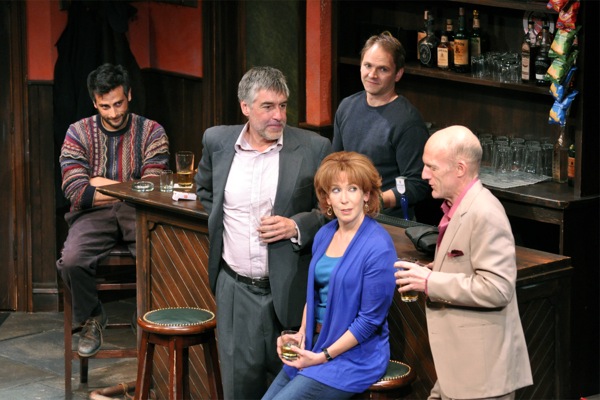 Eerie tales
Resident Ensemble Players presents 'The Weir'
5:54 p.m., Sept. 24, 2012--The Resident Ensemble Players (REP) will open the 2012-13 season with Conor McPherson's 1997 comedic drama The Weir. A masterpiece in the art of storytelling, The Weir opens with a couple of single fellas in the Irish countryside gathering at the local pub for a pint, or two, and a tale, or more.
When a pretty stranger from Dublin joins them, the stories turn to fairy roads, ghostly images and strange knocks at the door as the lads compete for her attention. However, the pretty stranger has her own tale to tell, one that proves to be the most eerie and unnerving of all.
From graduates, faculty
As it neared time for the processional to open the University of Delaware Commencement ceremonies, graduating students and faculty members shared their feelings about what the event means to them.
Doctoral hooding
It was a day of triumph, cheers and collective relief as more than 160 students from 21 nations participated in the University of Delaware's Doctoral Hooding Convocation held Friday morning on The Green.
What begins as an atmospheric glimpse into the Irish soul gradually transforms into an exploration of loneliness and human connections, and the importance of old-fashioned beliefs in the modern world. Director Leslie Reidel said, "The bar, pub, tavern and saloon are places where communities get together to tell old stories. They are also places where stories transform people and new communities are created. This is the magic of The Weir."
Performances run from Saturday, Sept. 29, through Sunday, Oct. 14, with preview performances on Thursday, Sept. 27, and Friday, Sept. 28. Single tickets are $21 - $27, with discounts for students, seniors and University of Delaware faculty and staff.
Tickets can be purchased on line at www.rep.udel.edu, by calling the REP box office at 302-831-2204, or in person at the Roselle Center for the Arts, 110 Orchard Rd., Newark, from noon-5 p.m., Monday through Friday.
The performance schedule for The Weir follows: Sept. 27, 28, 29 and October 4, 5, 6, 11, 12 and 13 at 7:30 p.m.; Sept. 30 and Oct. 6, 13, 14 at 2 p.m.
Before the 2 p.m. performance on Saturday, Oct. 13 is the REP Prologue, a free and informal 20 minute presentation about the production, designed to enhance patrons' enjoyment and understanding of what they are about to experience. A talk-back with the cast will take place after the evening performance on Thursday, Oct. 4.
The Roselle Center for the Arts is located at 110 Orchard Rd., on the corner of Orchard Road and Kent Way, in Newark. A convenient parking garage is attached to the center. 
A complete schedule, directions and information on purchasing tickets can be found at the REP's website, www.rep.udel.edu, or by calling the REP's box office at 302-831-2204.