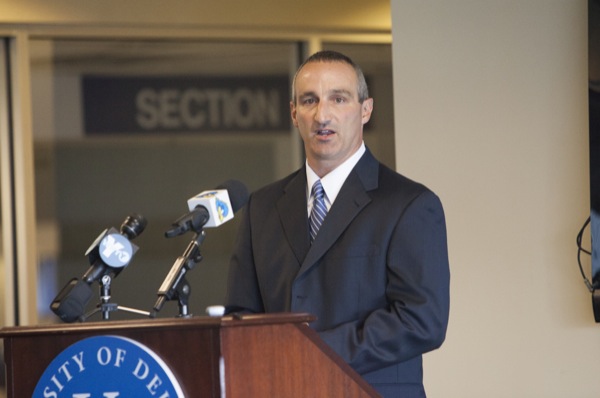 Ziady new athletic director
UD selects Eric Ziady as director of intercollegiate athletics, recreation services
12:39 p.m., Oct. 10, 2012--Eric Ziady, who spent the previous 23 years working in the highest levels of collegiate athletics administration in the Boston area, has been named the new director of athletics and recreation services at the University of Delaware.
The announcement was made by UD President Patrick T. Harker at a press conference held Wednesday afternoon at the Bob Carpenter Center Club.
'Resilience Engineering'
The University of Delaware's Nii Attoh-Okine recently published a new book with Cambridge University Press, "Resilience Engineering: Models and Analysis."
Reviresco June run
UD ROTC cadets will run from New York City to Miami this month to raise awareness about veterans' affairs.
Ziady, a native of Andover, Mass., becomes just the fifth director of athletics at Delaware since 1940. He replaces Bernard Muir, who left UD this past summer after three years at the helm to become director of athletics at Stanford University. Deputy Director of Athletics Samantha K. Huge has served as interim director of athletics since August.
Ziady, 47, will begin work at UD in early November.
"We're so glad that Eric is joining UD as our new athletic director," Harker said. "He's wholly committed to students' academic and athletic success. He's an incredibly strong financial administrator and a proven revenue-generator. He understands the conference landscape, and can help us navigate through the issues of conference alignment. And he absolutely shares our most fundamental goal: to educate student-athletes who will lead in competition, in the classroom and in the community."
Ziady arrives at UD after spending the previous 14 years at Boston College -- most recently as senior associate athletics director for business operations -- and nine years before that at Delaware's current Colonial Athletic Association (CAA) and former America East conference rival Northeastern University. He served as assistant director of athletics at Northeastern during his final four years in Brookline.
He will head a UD athletics and recreation services department that sponsors 21 intercollegiate sports, including 13 women's sports. Delaware captured three CAA team titles a year ago, had three teams post first round wins in NCAA tournaments, and finished second among CAA schools in the NCAA Division I National Association of Collegiate Directors of Athletics (NACDA) Directors' Cup standings. A vibrant recreation services department sponsors over 30 club sports and over 30 intramural programs.
"I am humbled and proud to accept the offer to become the University of Delaware's next director of athletics," said Ziady. "I understand the rich history and tradition of Delaware athletics and I can't wait to work with this fine group of coaches, administrators, and staff as we go forward in the years ahead and build upon that great legacy. We are excited to settle our family in the Newark community and build the next chapter of our lives as part of the Delaware family."
At Boston College, an Atlantic Coast Conference member, Ziady was responsible for handling both the long-range fiscal and strategic planning for the department as well as the day-to-day administration of all business and financial operations. In addition, he handled football game scheduling and contract administration, as well as overseeing five of the men's and women's athletic programs (football, men's and women's golf and men's and women's sailing).
In 2010, Ziady negotiated the six-year, multi-million dollar sponsorship agreement with Under Armour that outfitted all 31 Eagle sport programs and provides financial support for the department. The sponsorship was the largest in the history of BC athletics. UD also holds a sponsorship agreement with Under Armour.
Ziady currently serves as chair of both the ACC Women's Golf Committee as well as the Conference's Awards Committee. He has previously served on the ACC and Hockey East Finance Committees as well as on competition committees in both the America East (baseball) and Big East (golf) conferences. He has twice served on NCAA certification subcommittees for fiscal integrity, both at Northeastern and BC.
"Eric Ziady is one of the finest athletics administrators I've ever been around," said Gene DeFilippo, Boston College director of athletics from 1997 until 2012. "He is incredibly bright and enthusiastic and was an integral part of our management team at Boston College. Within a very short period of time, everyone in the Delaware athletics community will realize what a great selection the University has made. We are all very excited for Eric and his family."
A 1988 Providence College graduate, Ziady began his career at Northeastern as an assistant to the athletic director, handling compliance responsibilities, coordinating facility management and operations on game days, and assisting in marketing efforts. In 1991, he was appointed athletic business manager and was responsible for all of the department's fiscal activities, while also serving as the liaison with outside booster and support groups.
In 1994, Ziady was promoted to assistant director of athletics at Northeastern. He served on the Huskies' senior management team that planned long-range departmental goals and policies. Included among this group's assignments was the development of a five-year strategic plan to address Title IX and gender equity issues.
Ziady, who earned both a master's degree in sports management and a master's of business administration degree from Northeastern, has twice served as a marketing consultant. He is also a member of the College Athletic Business Management Association.
In 1990, he worked on a corporate marketing project with the North Atlantic Conference (now America East) and, in 1992, he assisted the Boston Organizing Committee in marketing and fundraising in an attempt to attract national and international amateur events to the city.
"We are excited about having Eric join the University of Delaware athletics family," said Blue Hen women's basketball head coach Tina Martin. "He has the right kind of mindset to lead Delaware at a very exciting time. I'm looking forward to working with him for many years to come."
"We are excited about Eric bringing his recognized leadership skills to the CAA," said Colonial Athletic Association Commissioner Tom Yeager. "Eric is a well-respected administrator who is a great hire for the University."
Ziady and his wife, Lauren, have three children, Matthew, Lindsey, and Courtney.
The search committee was chaired by Monica Taylor, vice president for development and alumni relations, and its members are Michael Gilbert, vice president for student life; Ian Hennessy, head coach of men's soccer; Tina Martin, head coach of women's basketball; Matt Robinson, professor of sport management; Lynn Snyder-Mackler, Alumni Distinguished Professor of Physical Therapy and UD's Faculty Athletics Representative; and John Wallace, UD alumnus, a letter winner in both baseball and football and current trustee.
Photo by Ambre Alexander