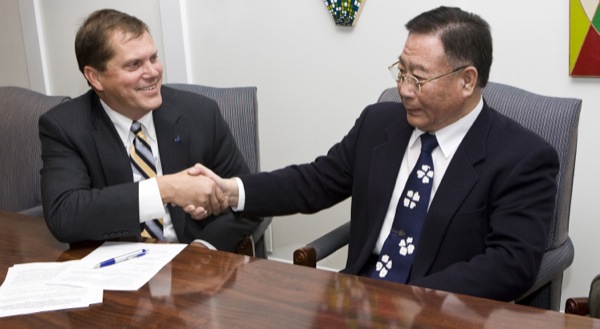 Oct. 30: China's wine culture
Distinguished scholar to discuss China's wine culture in UD-Peking series
9:40 a.m., Oct. 23, 2012--The third annual University of Delaware-Peking University Distinguished Scholar Lecture will be held Tuesday, Oct. 30, from 5-6:30 p.m., in 100 Sharp Laboratory. 
Pingqiu An, professor at Peking University and general director of China's National Commission on Classics Editing and Research, will present "Wine Culture of China: An Important Aesthetic Tradition."
Fulbright awards
Three University of Delaware students and an alumna have received word this spring that they will travel abroad as part of the newest class of Fulbright Student Program award winners.
Peace Corps plans
Two University of Delaware students, John McCarron and Bridgette Spritz, have been selected as Peace Corps volunteers and will serve in Ghana and Rwanda.
The lecture, which is hosted by the UD College of Arts and Sciences and organized in partnership with the Confucius Institute at UD, is free and open to the public. A reception will follow the event from 6:30-7 p.m.
Since the signing of a cooperative agreement between UD's College of Arts and Sciences and Peking University's National Commission on Classics Editing and Research in 2010, the partnership has sought to "establish active scholarly linkages and create the long-term foundation for collaboration among the academic disciplines" the two institutions share.
Often referred to as "China's Harvard," Peking University is recognized as one of the top institutions in higher education in China. UD and Peking University have a number of joint projects under way, in areas ranging from Chinese culture to a Global Educational Exchange Initiative (GLOBEX) in engineering.